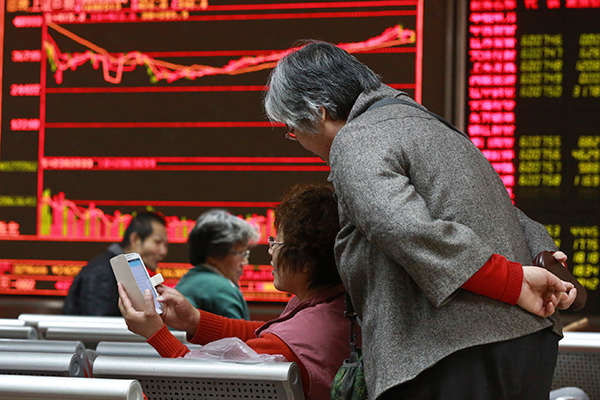 Investors surf the internet at a brokerage in Beijing. [Photo/China Daily]
Software developers tap AI to scan, analyze posts on Shanghai, Shenzhen shares
More than 125 million Chinese use their Sina Weibo accounts every day to gossip about celebrities, find hip restaurants and stay in touch with family. They also talk about stocks, and that has entrepreneurs listening.
At least a dozen developers are introducing products that use artificial intelligence to scour social-media posts in China for comments about shares on the Shanghai and Shenzhen exchanges. The software searches for keywords and then distills its findings into summaries of whether investors are positive or negative about particular companies.
Individuals comprise the majority of investors in China's $6.4-trillion stock market, and institutional traders want tools to find out which ways the retail crowd are leaning before making their own decisions.
Programs such as Market Mood, FinSentS and WiseEnterprise that analyze internet forums are part of the $1.2 billion spent annually by financial-services firms on market-data feeds, according to consulting firm Greenwich Associates.
"If you see the Chinese stock market, people just react to any news flow coming from WeChat, Weibo or any type of social media," said Kevin Leung, director for global investment strategy at Haitong International Securities Group Ltd in Hong Kong. "There is definitely an impact on stocks."
The programs also help investors follow company-generated posts on Weibo, the most popular of China's Twitter-like microblogging platforms. Twitter and Facebook are not available in China, giving rise to local counterparts from Weibo Corp and Tencent Holdings Ltd, operator of WeChat.
Other Chinese social-media networks being scraped include Minkabu Inc's Caiku and East Money, which host blogs about stock trading. The Shanghai and Shenzhen exchanges have a combined 111 million investor accounts, according to China Securities Depository and Clearing Corp data. There are about 80 billion social-media posts a year on China's internet.
China Market Mood was developed by Berkeley, California-based startup Pluribus Labs LLC, which already offers a "sentiment analytics" product in the US. The Chinese version will be released this month, and the company plans to open an office in the region by year-end, Chief Executive Officer Frank Freitas said.
"The Chinese market is increasingly a bellwether for moves in other markets, not just in the Asian region but in other regions," Freitas said. "Given the high degree of retail-investor involvement in this market, maintaining a timely understanding of the tenor of these participants can provide valuable insights."
Weibo, which counts Sina Corp and Alibaba Group Holding Ltd as shareholders, had an average of 126 million daily active users in June - a 36 percent increase from a year earlier, according to a company statement.
The companies interviewed for this story declined to comment on their revenue from market sentiment products and how much they have spent on their development.
The efforts to scan Chinese investor sentiment comes amid a downturn in the mainland's markets. The benchmark Shanghai Stock Exchange Composite Index has fallen 13 percent this year after a 9.4 percent gain in 2015.
Market Mood uses a proprietary dictionary compiled through machine learning to search posts for words such as bullish, bearish, gap and rip, Freitas said. The program also scans for pairs of words that denote positive or negative values.
The software compiles what Freitas calls a sentiment score. That number is tallied for specific periods of time to meet the requests of clients, who may want to target certain industries.
News sentiment analysis, including that provided by Bloomberg LP, Thomson Reuters Corp and other news and data providers, is being increasingly used by investors.
Freitas has worked in the financial services industry for 25 years, including as chief operating officer for Instinet LLC. He helped start Pluribus Labs in 2014.
InfoTrie Financial Solutions Pte Ltd uses its Financial News and Sentiment Screener, or FinSentS, to scan more than 1,000 blogs and news sources.
Bloomberg