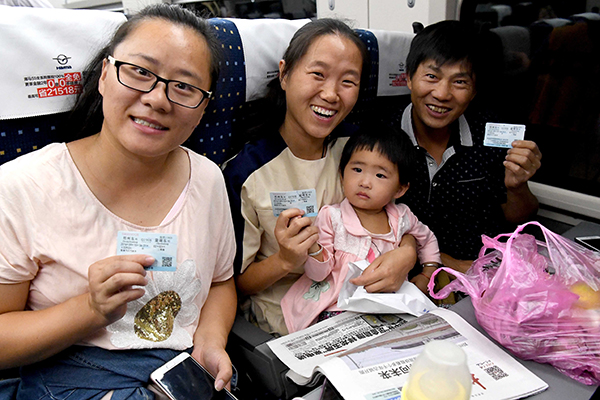 Passengers show their tickets on the inaugural run of the Zhengzhou-Xuzhou high-speed railway in Zhengzhou, Henan province, on Saturday. [Photo/Xinhua]
High-speed line opens, reducing distances and connecting people
A new high-speed railway linking east and central China opened on Saturday, pushing the total length of high-speed track in service above 20,000 kilometers in China, the most in the world.
The new 360-km line links Zhengzhou, Henan province with Xuzhou, Jiangsu province. Trains will run up to 300 km/h in the initial period.

"The new railway links China's two most important north-south railways - the Beijing-Guangzhou and Beijing-Shanghai railways - and also connects East, Central and West China," said Huang Xin, an official from the transportation bureau of China Railway Corp.
The Xuzhou-Lanzhou railway is one of China's four most important railways from east to west, which will link Asia and Europe and play a key role in the Belt and Road strategy, he added.
It also greatly reduces east-west travel time between big cities.
People can commute between Shanghai and Zhengzhou in four hours, cutting 2 hours and 47 minutes from the trip.
Travel between Shanghai and Xi'an was also reduced to 6 hours from 10 hours and 47 minutes.
"The new railway is not long, only 360 km, but it cuts across three provinces, Henan, Anhui and Jiangsu," Huang said.
"It not only reduces distances, but also connects people, information and logistics, greatly boosting the regional economy, people's livelihoods and tourism."
Lu Weili, a 23-year-old from Xuzhou, Jiangsu province, was thrilled at the opening of the new railway.
"I own a clothes factory in Zhengzhou, and my business is all over Jiangsu province and Shanghai. The new railway will surely benefit me and my business a lot in the future," he said.
"High-speed rail is safer and faster, providing better service for the passengers. The old trains are not too bad, but they have several issues such as hygiene and intensive sales of local specialties," Lu said.
"I take the train to go home or do some clothes deliveries once or twice a month," he said, adding that his family is looking forward to taking the high-speed line as well.
"China has led many high-speed railway technologies in the world and has abundant management experience," said Zhang Zhifang, deputy director of the technology administration department of China Railway Corp.
High-speed rail has become the transportation of choice for many Chinese people.
According to China Railway Corp, about 4,200 bullet trains run in China each day, providing more than 4.5 million passenger trips.
In July, the National Development and Reform Commission, the country's top economic planner, issued a national railway development plan that envisions a 175,000-km rail network by the end of 2025. Under the plan, China will have 38,000 km of high-speed railways.
Wu Jiaquan contributed to the story.