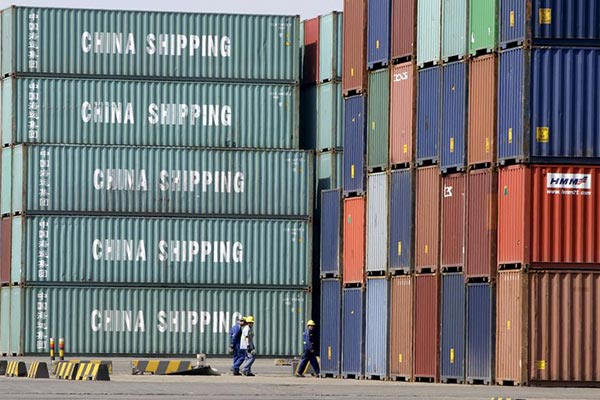 Workers walk past containers at Tianjin Port in this May 13, 2010 file picture. [Photo/Agencies]
Tianjin Port is strengthening its connection to the Middle East and Europe by transport systems that seamlessly integrate sea and rail shipment.
The first sea-railway container station in the Beijing-Tianjin-Hebei region was opened in Tianjin Port, the largest port in northern China, at the end of June.
Construction was started on the hub in July 2009, as a collaboration of Tianjin Port and the Beijing Railway Bureau. Now, it has an annual capacity of 400,000 twenty-foot equivalent units.
It will be able to handle 2 million containers annually once completed.
"The rail routes have made the transport more efficient," said Xu Tieshu, assistant director of the Tianjin rail cargo station.
"Land or sea transport from Tianjin Port to Guangzhou used to take 13 to 15 days. Now, the cargo will first go to the rail container station, which will then be loaded on the train that goes directly down to Guangzhou. The trip takes only 40 hours. Moreover, the one-stop service for logistics and customs clearance along the way guarantees that the cargo will arrive on time," said Xu.
According to Xu, the Tianjin Port-Guangzhou route saves up to 800 yuan ($120) per container.
So far, Tianjin Port has been connected to three rail routes that go to four inland border ports of China-Manzhouli and Erenhot in the Inner Mongolia autonomous region, and Alataw Pass and Khorgos in the Xinjiang Uygur autonomous region.
It is also connected to more than 10 rail routes stretching into the hinterland of China, including Inner Mongolia, the Ningxia Hui autonomous region and Shanxi province.
These routes have speeded up the connection from China to the Middle East and Europe.
In May, 60 Nissan cars from Long Beach in the United States heading to Mongolia completed customs clearance in Tianjin Port.
The cargo was then transported by train through Erenhot in Inner Mongolia to Ulaanbaatar, the capital city of Mongolia.
With the sea-railway combined transportation in Tianjin Port, the trip has been shortened from 60 days to 40 days, cutting the transport cost by nearly 30 percent.
In 2015, the port-and-rail transport in Tianjin Port handled 310,000 TEUs. It handled 151,000 TEUs in the first six months of 2016, up 22.5 percent from the first half of last year.
Its container throughput of the Tianjin Port in the first half of 2016 stood at 7.26 million metric tons, with cargo throughput of 270 million tons.