Chinese firms' foreign buys make the nation a source of capital for developing countries
The aggressive acquisition by Chinese companies of foreign enterprises has been one of the main drivers for China's steadily rising outbound foreign direct investment.
The country's outbound FDI stood at $128 billion in 2015, up 4 percent year on year, making it the third-largest overseas investor after the United States and Japan, according to the World Investment Report by the United Nations Conference on Trade and Development released on Thursday during CIFIT.
"An increasing number of Chinese enterprises have acquired foreign companies, and, as a result, China has become a major foreign capital source for some developed countries. As the Belt Road Initiative advances, China's investment in developing countries will increase rapidly," said Zhan Xiaoning, director of investment and enterprise at UNCTAD.
Zhu Jianmin, vice-president of Country Garden Holdings Co Ltd, a property development company based in South China's Guangdong province, said that his company is actively developing the market in Belt and Road countries
"One major project we are developing in Asia at the moment is Forest City in Malaysia. We are going to initiate projects in Indonesia, India and Vietnam very soon," said Zhu.
Country Garden has become the largest real estate developer in Malaysia since it entered the country in 2012.
It now has four projects under development in the country, the largest one being Forest City located in the Iskandar Development Region in Johor Bahru with a planned investment of 250 billion yuan ($37.4 billion). The project covers an area of 20 square kilometers.
Zhu said that the Forest City will create 230,000 jobs for local people and will also stimulate a range of sectors including materials procurement, finance, education and medical services, and added that UNCTAD is also actively participating in public welfare projects initiated by the local government.
"As a result of this participation, we have received a lot of preferential treatment from the local government," said Zhu.
According to statistics from the All-China Federation of Industry and Commerce, the assets of the top 500 Chinese private enterprises, which have an annual revenue in excess of 10 billion yuan each, are growing by an average of 30 percent every year.
A large part of this growth is due to the fact that many of these companies are acquiring overseas assets.
"There is no question that an increasing number of Chinese companies are buying foreign brands, technologies and business models, particularly in the Belt and Road countries, to strengthen their competence," said Wang Zhiguo, former vice-chairman of AFIC.
Wang said that private Chinese enterprises are focusing on research and development with a view to delivering high-quality products as they look to go global.
He added: "Huawei, for instance, invests 14.9 percent of its revenue into research and development. In 2015, its total R&D expenditure was more than 30 billion yuan. Its total R&D to date totals nearly 60 billion yuan. When you take this into account, it's no wonder the company has sold more cell phones globally than any other company in the first half of this year."
yangziman@chinadaily.com.cn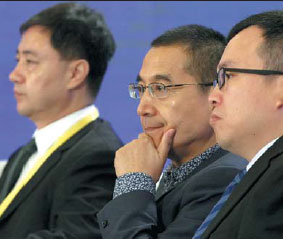 Experts and economists at the Belt and Road Initiative Forum during the ongoing China International Fair for Investment and Trade.
(China Daily 09/10/2016 page7)