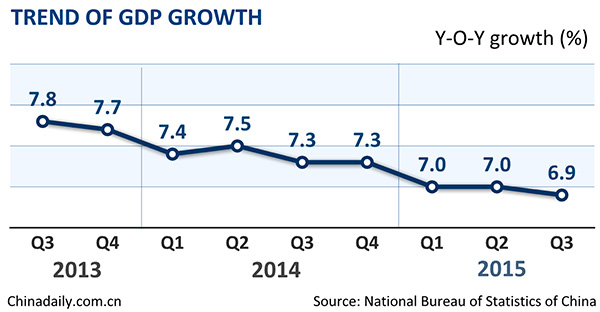 China's GDP in the third quarter slightly beat expectation to grow 6.9 percent, National Bureau of Statistics said on Monday.
The growth rate, the slowest since the first quarter of 2009, dragged the growth in the first nine months down to 6.9 percent from 7 percent in the first half.
Meanwhile, industrial output in September grew 5.7 percent, while fixed-asset investment, a pillar of economic growth, further falling to 10.3 percent in the first nine months from 10.9 percent in the first eight months of this year, according to NBS data. Retail sale growth gained to 10.9 percent from 10.8 percent in August.
The growth was particularly dragged down by real estate investment, which further slowed to 2.6 percent in the first nine months, from 12.5 percent recorded in the same period just a year ago.
Huang Yiping, an economics professor with Peking University, and a member of the central bank advisory committee, said downward pressure will persist in the remainder of this year and next year, because the economy's traditional growth engines, such as labor-intensive manufacturing and capital-intensive heavy industries are losing stream while new engines, such as high value-added manufacturing and services, are developing but is not big enough to fill in the slack.
"It will take quite a while to foster those industries that will drive the next round of medium-to-high growth, so I think the downward pressure will be there for a while," he said. "Policy prop-up might bring the growth up temporarily but that's not going to last."
Zhang Xiaoqiang, a former deputy-chairman of the National Development and Reform Commission, said policymakers don't have to be preoccupied with a 0.1 or 0.2 percentage points off the "7 percent" of official GDP growth target. GDP is just one of many policy targets. Other important growth targets included employment, household income, energy intensity, all of which are on a good track.
For example, real household income in the first three quarters grew 7.7 percent, according to NBS, well ahead of the GDP growth.
Tsinghua University's Center for China in the World Economy, predicted in a Sunday report that China's growth will rebound to 6.9 percent from 6.8 percent expected this year, backed by a warm-up in property market and the trickle-down effect of previously-approved infrastructure projects.