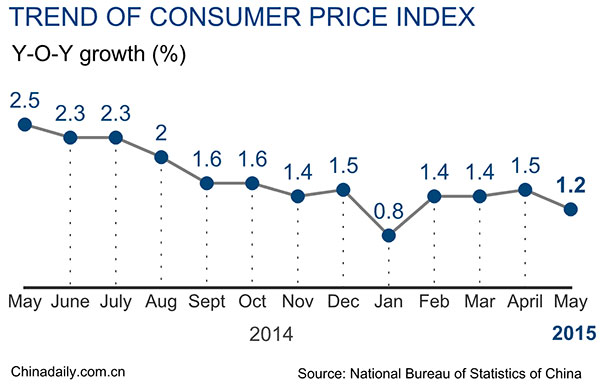 BEIJING -- China's consumer price index (CPI), a main gauge of inflation, grew 1.2 percent year on year in May, the National Bureau of Statistics announced on Tuesday.
The reading fell from 1.5 percent posted in April.
On a monthly basis, consumer prices in May slipped 0.2 percent, unchanged from the 0.2-percent drop recorded in April.
Falling prices of vegetables, fruits and eggs due to seasonal factors were the main cause of the CPI decline last month, NBS statistician Yu Qiumei said.
May PPI down 4.6%
The country's producer prices slid 4.6 percent year on year in May, the 39th consecutive month of declines, adding to disinflationary pressure, official data showed on Tuesday.
The drop in the producer price index (PPI), a measure of costs for goods at the factory gate, stayed the same with that in April, also the index's second largest drop since its downward trend started in March 2012, according to the National Bureau of Statistics (NBS).
On a monthly basis, the PPI contracted 0.1 percent in May, narrowing from a 0.3 percent decline in April, which was mainly caused by rising petroleum processing costs.
Deflationary pressure remains
The drop of the PPI reading is steeper than expected, which shows difficulty at company level despite slight pickup of commodity prices, said Lu Zhengwei, chief economist at Industrial Bank.
"We still need to remain cautious on the deflationary pressure," said Lu. He expects the CPI to grow 0.8 percent in June.
China's gross domestic product (GDP) grew 7.4 percent in 2014, the weakest annual expansion in 24 years. GDP growth in the first quarter of the year slowed to 7 percent.
The country targets an annual economic growth rate of around 7 percent for the year and aims to keep inflation at around 3 percent.