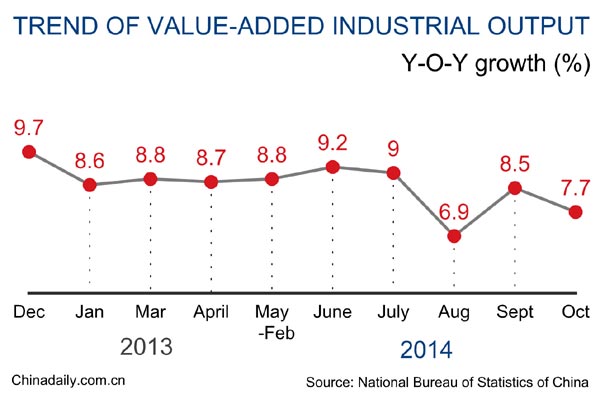 BEIJING - China's industrial output grew 7.7 percent year on year in October, down from an 8-percent increase in September, official data showed on Thursday.
On a month-to-month basis, industrial output in October rose 0.52 percent from the previous month, lower than the 0.91-percent growth recorded in September, the National Bureau of Statistics (NBS) said in a statement.
For the first 10 months, industrial production growth decelerated to 8.4 percent year on year, down 0.1 percentage points from the first nine months of 2014, the NBS said.
October's industrial output growth was 0.3 percentage points lower than the market consensus projection, said Bob Liu, analyst at the China International Capital Corp (CICC).
Industrial output growth has decelerated notably in the last three months. October's growth rate was the second lowest monthly reading since April of 2009, only after that of August this year.
In August, year-on-year industrial output growth tumbled to 6.9 percent, raising market concerns that the "world's factory" was losing growth momentum.
China uses industrial production, officially called industrial value added, to measure the business activities of designated large enterprises, each with annual turnover of at least 20 million yuan ($3.25 million).
Industrial production accounted for 44.2 percent of China's total GDP in the first nine months of 2014, making it one of the best leading indicators for China's GDP growth.
China's gross domestic product expanded at a slower pace of 7.3 percent in the third quarter of this year, but still remained within the "reasonable range" set by policymakers.
October's industrial output growth deceleration was offset by stronger output of motor vehicles and transportation equipment for railways and shipbuilding, which grew 12.6 percent and 13.2 percent, respectively, NBS data showed.
Production of the telecommunication and computer sector, which registered a sharp acceleration of 16.6 percent in September, continued expanding at a relatively fast pace, at 12.2 percent in October.
Owing to a 5.8-percent contraction of power output by coal-fired plants, growth of total power generation slowed to 1.9 percent year on year last month, down notably from the 4.1-percent increase in September, NBS data showed.
Liu of CICC warned that China's industrial output is likely to slow further in November because of restrictions placed on factories and construction in Beijing and neighboring regions to keep the air clean during the APEC week, which ended on Nov. 11.
The impact of the APEC restrictions could be "significant" with six provinces and cities involved, according to the Beijing-based financial firm Gaohua Securities.
During the APEC week, China hosted a series of meetings from Nov 5 to 11. The APEC Economic Leaders' Meeting was held in Beijing from Nov 10 to 11.