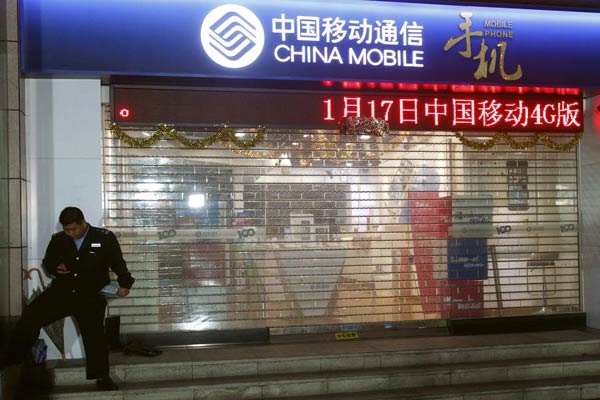 A security guard uses his mobile phone in front of a China Mobile store in Guangzhou, Guangdong province Feb 10, 2014.  [Photo/Agencies]
BEIJING - The net profit of China Mobile, the world's largest mobile operator by subscribers, fell 8.5 percent year on year to 57.74 billion yuan ($9.4 billion) in the first half of 2014, the company said on Thursday.
Operating revenue in the first half rose 7.1 percent from a year earlier to 324.7 billion yuan. Of that, revenue from telecom services gained 4.7 percent to 297.9 billion yuan, the Beijing-based company said in a financial statement.
Hong Kong-listed China Mobile attributed the fall in profit to increasing investment in telecom equipment amid the explosive growth in data traffic, in particular the expansion of 4G business.
Policy factors including China's adoption of value-added tax in place of business tax and the adjustment of network interconnection settlement standar
ds
also led to a decrease of profitability, it said.
As of June 30, China Mobile had over 790 million customers, an increase of 23.41 million from the end of 2013. Its 4G customers reached 13.94 million by the end of June.
"The commercialization and rapid development of 4G has provided a rare opportunity to reshape China Mobile's advantages," Chairman Xi Guohua said in the statement.
Yet more significantly, as a traditional telecom company, China Mobile has been faced with strong challenges from Internet firms such as Tencent, which are commonly referred to as "over-the-top," or OTT, service providers.
The OTT providers are breaking into the smartphone market through mobile app stores and offering users new communications services, often for free, that work without the need for the operators' networks.
"The substitution effect on the traditional telecom business by OTT business will be aggravated, and the effects of adjustments in government policies will start to become evident," Xi said, explaining the pressure that he expects China Mobile to face in the short-term.
China Mobile will embrace the trend and proactively develop digital services based on its core resources, Xi said.