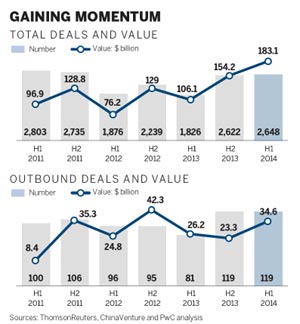 Private firms from China lead in outbound deals, says PwC survey
Foreign inbound mergers and acquisitions in China soared in terms of value during the first six months of the year, with multinational companies further honing their strategies and expanding their presence, a report said on Tuesday.
The report, released by global consultancy firm PricewaterhouseCoopers, said foreign firms clinched deals worth $12.5 billion during the first six months of the year in China, up from around $8.4 billion in the second half of 2013. It also marked the fourth consecutive increase in value terms in the firm's semi-annual survey.
According to Roger Liu, PwC's mainland/HK deal PE leader, the momentum in the first half was provided by Singapore-based Overseas-Chinese Banking Corp Ltd's $5 billion acquisition of Wing Hang Bank. "Other than that, Europe is still the main source of foreign strategic buyers in China," he said.
On the other hand, China's outbound M&A activity continued to track close to the elevated levels seen in the second half of 2013, though it did not exceed the peak seen last year.
"Privately owned enterprises in China continue to be a driving force for outbound M&As, as outbound deals by State-owned enterprises slowed, perhaps due to the SOE reforms," said Gabriel Wong, lead partner for corporate finance at PwC China.
According to the report, telecommunications, technology and real estate were important sectors for private companies going overseas and showed rapid growth from last year. "Private firms are seeking new markets for growth, technologies to bring back to China, and diversified investment opportunities," Wong said.
In terms of the number of deals, Europe and Oceania have become more popular with China's outbound investors, while M&A transactions in the United States and Asia saw a slight decline.
More cross-border M&A activities were witnessed in an overall robust market, with total M&A deal value in China soaring to $183 billion in the first half of 2014. M&A activities in the first half of the year were notably strong thanks to growing competition for assets prompted by industry consolidation, companies searching for organic growth, and reconstruction of SOEs, Liu said.
Although the number of deals remained broadly flat overall compared with the second half of 2013, the deal sizes were bigger, with 30 deals larger than $1 billion.
Private equity firms in particular are becoming more successful in finding larger deals—nine deals were larger than $500 million in the first half, and the value of new PE investments also hit a record high.
"We anticipate the healthy trend in China's M&A market to continue into the second half of 2014, mainly driven by domestic transactions amid SOE restructuring, outbound deals led by private companies and an active PE market," Liu said, adding that such activities will center on technology, financial services, and real estate.
"Outbound M&As by SOEs may slow as many of these firms will focus on domestic reforms. However, they are expanding their presence in Hong Kong as a platform for future outbound activity," he said.