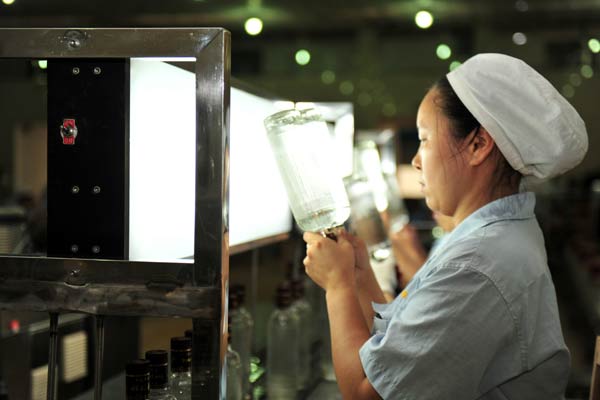 A worker checks products at a baijiu factory in Yichang, Central China's Hubei province, July 31, 2014. [Photo by Zhang Guorong/ Asianewsphoto]
BEIJING - Business activity in China's non-manufacturing sector slightly slowed in July, an official monthly survey showed on Sunday.
The Purchasing Managers Index (PMI) of the non-manufacturing sector came in at 54.2 percent in July, down 0.8 percentage points from June, according to a report jointly released by the National Bureau of Statistics and the China Federation of Logistics and Purchasing (CFLP).
The non-manufacturing PMI tracks activity in sectors including construction, software, aviation, railway transport and real estate. July's reading marked the lowest level in six months, but still well above the 50-threshold that demarcates expansion and contraction.
Compared with a month earlier, the sub-index for new orders remained flat at 50.7 percent, while that for new export orders saw a slight drop of 0.4 percentage points to 49.8 percent.
The sub-index for employment retreated 1.1 percentage points to 49.3 percent in July, and that for business outlook recovered 1.1 percentage points to reach 61.5 percent.
Cai Jin, deputy head of the CFLP, said the slight fluctuation of the indices showed the market is generally stable.
Notably, the property market remained weak, with the business activity, new orders and price indices for the sector all dipping below the 50-percent demarcation.
Earlier official data showed China's home prices continued a downward trend in more cities in June, with the average price in these 70 cities slipped 0.47 percent from the previous month, marking a second consecutive monthly drop following a 0.15-percent fall in May.
Sunday's data came on the heels of the manufacturing data that showed activity quickened to the highest level in more than two years in July, reinforcing signs that the economy is firming up on government support policies.
After a shaky start this year, Chinese policymakers have pinned hopes on accelerating investment on railways and infrastructure, quickening fiscal spending, and selectively easing monetary policies to support faltering growth.
Helped by these efforts, China's economic growth showed more recovery signs in the second quarter, with growth accelerating to 7.5 percent from the 7.4-percent expansion in the first.