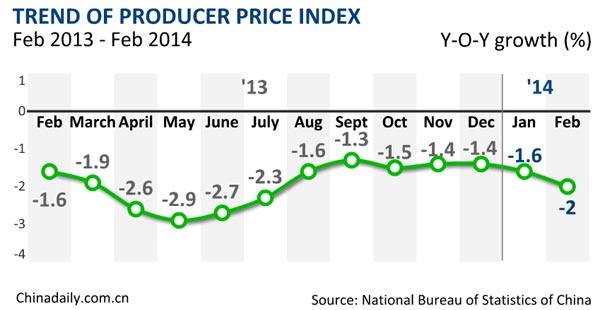 BEIJING - China's producer price index (PPI) contracted 2.0 percent year on year in February, following a 1.6-percent decline in January, data from the National Bureau of Statistics (NBS) showed on Sunday.
The PPI, which measures inflation at the wholesale level, has been in deflationary territory for 24 consecutive months, the longest drop since the 1990s.
In February, the index went down 0.2 percent from the previous month, while it fell 0.1 percent month on month in January.
The NBS said the consumer price index rose 2 percent year on year last month, gaining 0.5 percentage points compared with that of January.
The data came after the country' s customs released trade figures, which showed a large trade deficit in February mainly due to distortion by the Chinese New Year holidays.
Among the surveyed 30 main industries, 16 sectors including power generation and food production saw month-on-month gains, while 14 sectors including oil and natural gas exploration and mining fell month-on-month.
However, analysts said the data is not convincing enough to judge the performance of the country's economy as economic statistics in January and February are always distorted by the shifting timing of the week-long Lunar New Year holiday, which began on Jan. 31 this year.