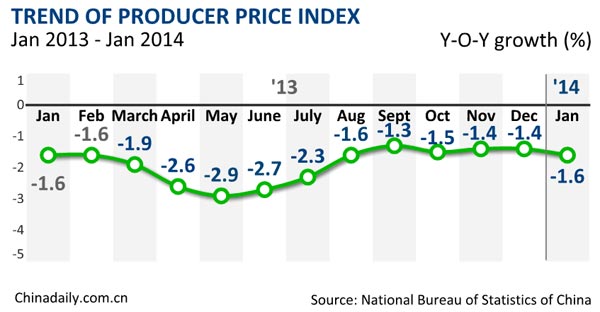 BEIJING - China's producer price index (PPI), a main gauge of inflation at the wholesale level, contracted 1.6 percent year on year in January, following a 1.4-percent drop in December, data from the National Bureau of Statistics showed on Friday.  
The index, which measures inflation at the wholesale level, has been in deflationary territory for 23 consecutive months, the longest drop since the 1990s.
The PPI edged down 0.1 percent month on month in January. In December, the index remained unchanged from the preceding month.
The NBS also said the consumer price index rose 2.5 percent last month from a year earlier, the same pace as in December.
The data came after China's January trade numbers showed both imports and exports were sharply higher last month, defying expectations of a slowdown in the world's second-largest economy.
However, analysts said the data is not convincing enough to judge the performance of the country's economy as economic statistics in January and February are always distorted by the shifting timing of the week-long Lunar New Year holiday, which began on January 31 this year.
Yu Qiumei, a senior statistician with the NBS, attributed the January consumer inflation rise mainly to surging prices of food as the Lunar New Year holiday pushed up demand for vegetables and meat.
Yu said the moderation in producer prices was also due to the holiday's impact on production, as industrial companies suspended operations for the period.
Market reactions to the price index figures were mixed. The benchmark Shanghai Composite Index rose 0.5 percent to close the morning session at 2,108.91. The Shenzhen Component Index edged down 0.16 percent to end at 7,844.65.