BEIJING -- China's consumer price index, a main gauge of inflation, rose 2.6 percent year-on-year in August, down from 2.7 percent in July, the National Bureau of Statistics (NBS) said on Monday.
The country's consumer inflation has stayed between 2 percent and 3.2 percent this year, well below the government's full-year target of 3.5 percent.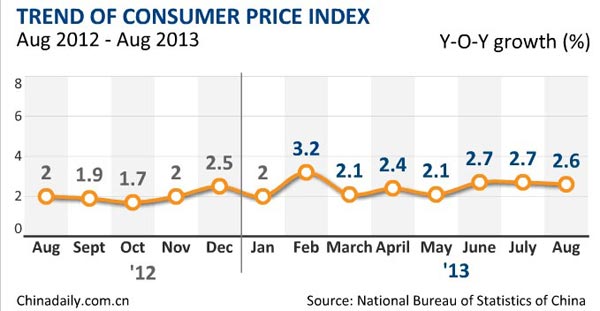 Last month, food prices rose 4.7 percent year-on-year, while prices of non-food products were up 1.5 percent, the NBS said in a statement on its website.
Niu Li, an expert with the State Information Center, attributed the slight drop mainly to a weakening carryover effect, as last August's inflation was slightly higher than that of July.
The bureau estimated that the carryover effect dropped 0.7 percentage points from July to 1.1 percent in August.
The data also showed China's producer price index, which measures inflation at the wholesale level, fell 1.6 percent in August from the same month last year.
China's economy has been stuck in a protracted weak recovery, easing to 7.5-percent growth in the second quarter of 2013 from 7.7 percent in the first three months and 7.9 percent in the final quarter of 2012.
The country's purchasing managers' index for the manufacturing sector rose to 51 percent in August, the highest level this year.
Niu said the present low prices offer ample room for the country's monetary policies and allow the country to take flexible pro-growth measures.
Wang Xiaoguang, an expert with the Chinese Academy of Governance, also said that steady consumer inflation will help stabilize the macroeconomic environment for China.
As the country's CPI has stayed in a low range for about two years, companies are likely to have a positive outlook for future development, Wang said.
"Steady prices will help improve the profitability of companies and allow them to make plans for long-term production and investment," he explained.
By midday on Monday, Chinese stocks had surged more than 2 percent due to the positive signals from the NBS data.
The benchmark Shanghai Composite Index leapt 3.39 percent to finish at 2,212.52. The Shenzhen Component Index gained 2.71 percent to finish at 8,504.74.
China will not face much inflation pressures in the short term, especially if food prices do not witness rapid increases, Wang said.
Inflation is likely to stay at around 2.5 percent until the end of the year and it will definitely stay below the government's target of 3.5 percent, he said.
Wang believes the country's inflation will enter a rising cycle next year, but prices will not see noticeable rises if economic growth fails to pick up.
Moody's Analytics said in a statement that looking beneath the numbers, there are signs that inflation pressures are building, citing a series of upbeat economic figures.
These include the increase in industrial production in July, and the recovery in manufacturing sentiment and the acceleration in exports in August. Commodity prices, especially for crude oil, are picking up and will push up producer costs, the statement said.
These factors suggest that the government will not loosen monetary policy further, according to Moody's.
Liu Ligang, chief Greater China economist at ANZ Banking Group, said the country's inflation is well within control.
He forecast that it will be hard for the country to see monthly CPI of more than 3 percent later this year, and inflation for the whole year will stay at around 2.5 percent.