Weak IPR protection, lack of communication between investors and filmmakers cited as barriers to success
Despite rapid growth, the Chinese film industry still faces some nagging problems that industry experts say must be resolved before it moves on to the next level of its development.
Zhang Tian, the general manager of Shanghai's Culture Assets and Equity Exchange - the first pilot program backed by the central government for cultural enterprises to trade copyrights and equities - told a film and TV finance workshop this week that inadequacies in intellectual property right protection, in particular, have continued to cloud the industry.
What's more, Zhang said the lack of a formal channel for closer communication between filmmakers and investors has blocked the flow of investment money into the industry.
"More financing products, tools, and trading measures would help investors and film makers to make better use of various resources, and the exploration of further financing models would benefit the industry in the long run," added Zhang.
These issues aside, however, China's film-making market has been growing fast since 2010.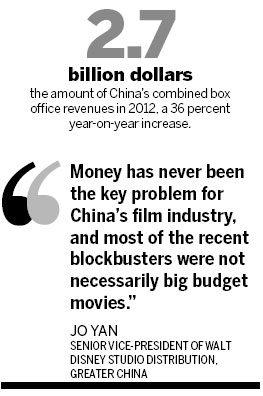 The country's combined box office revenues reached $2.7 billion in 2012, a 36 percent year-on-year increase.
It is now the world's second-largest film market just behind the United States, and the world's third-largest filmmaker, according to the Motion Picture Association.
"China, and especially Shanghai, continues to be a popular backdrop and facility for both local and foreign film productions," said Rance Pow, the president of Artisan Gateway, a leading film and cinema industry consulting firm, at the launch of a report on the economic contribution of the Shanghai film and television industry.
His company was commissioned by the US Consulate in Shanghai to release the study.
Pow added that it is essential to ensure that intellectual property rights are protected before considering how to raise film investment and make money out of any movie projects.
Funding for filmmaking and television production has also been expanding.
According to data from the Culture Assets and Equity Exchange, China now has 18 funds that specialize in filmmaking and TV investment, worth a combined total of more than 19 billion yuan ($3.01 billion).