Small cities play growing role in film market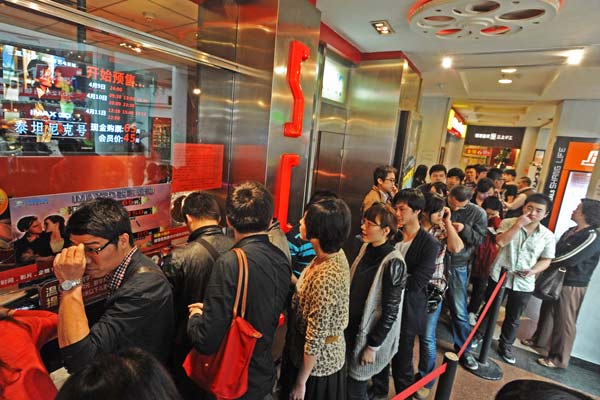 Moviegoers line up to purchase tickets at a theater in Wuhan, Hubei province. China accounted for 8 percent of the global film market with annual box-office receipts of $2.7 billion last year, according to figures from the Motion Picture Association of America. Provided to China Daily 
1,000 digital movie theaters with 3,000 screens in county-level sites
Movie ticket sales have gone crazy in the city of Panjin.
Compared with two years ago, in one of the fourth-tier city's "cineplexes" there are now nearly as many tickets being sold in a month as there were in a whole year.
Annual box-office revenues in the city — in the southwest of Northeast China's Liaoning province — surged to 25.6 million yuan ($4.17 million) in 2012 from 2.65 million yuan the year earlier, a year-on-year growth of 867 percent, according to statistics from EntGroup Consulting, a Beijing-based entertainment industry consultancy.
In April alone, the city's CJ CGV cineplex, owned by a South Korean theater operator, sold two million yuan's worth of tickets to 50,000 customers, said Guo Jinsheng, the manager of the theater, which opened in January.
"And that performance is growing month-on-month," added Guo.
Panjin is now one of the fastest-growing third- and fourth-tier cities in terms of box-office receipts, and others cities enjoying similar growth include Langfang in
Hebei
province, and Yueyang in
Hunan
province.
Ticket sales are also gaining momentum in small cities in a country that is now the world's second-largest film market.
After the United States, China accounted for 8 percent of the global film market with annual box-office receipts of $2.7 billion last year, according to figures released in March by the Motion Picture Association of America.
By May 12, China's total box-office revenues for the year exceeded 8.1 billion yuan, up 39 percent year-on-year, according to official statistics from the film bureau under a new administration formed in March, which falls under the auspices of the State Administration of Radio, Film and Television, and the State Press and Publication Administration.
Domestic movies accounted for 63 percent of that, against 34 percent during the same period last year.
Small and medium-sized cities were the major driving forces of the domestic movie industry, and represent a massive potential growth market, said Mao Yu, deputy director of the film bureau, in an interview with People's Daily newspaper.
"Our customers in third- and fourth-tier cities tend to prefer domestic films to imported ones," added Yi Libin, marketing director at CJ CGV China.