Shanghai film festival rolls out red carpet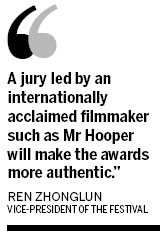 Academy Award-winning director Tom Hooper heads the guest list of the 16th Shanghai International Film Festival that opens on Saturday and will run nine days.
Hooper, whose Les Miserables and The King's Speech were both released in China, will join French critic Michel Ciment, German director Chris Kraus and Chinese director Ning Hao to decide the winners of the 12 Golden Goblet Awards.
"A jury led by an internationally acclaimed filmmaker such as Mr Hooper will make the awards more authentic," said Ren Zhonglun, vice-president of the festival.
Two Chinese films are nominated: Hong Kong director Dante Lam's Unbeatable and mainland director Hu Xuehua's Amazing, with cameo appearances by NBA players Scottie Pippen and Dwight Howard.
The festival opens on Saturday night at Shanghai Cultural Square. About 400 celebrities, including Oliver Stone, Chow Yun-fat and Andy Lau, will take to the red carpet.
The forums, a praised section of the festival for years, will kick off on Sunday.
Michael C. Ellis, Asia-Pacific president and managing director of the Motion Picture Association, Stephen Stites, vice-president of Goldman, Sachs & Co, and Ivy Zhong, vice-chairman of Beijing Galloping Horse Media Group, will discuss film financing in China, a market that replaced Japan as the second-largest box office territory in 2012.
In the "Chinese Capital's Long March to Hollywood" forum on Monday, panelists will address a trend that sees more investment in Hollywood from Chinese enterprises.
"After 20 years of Hollywood blockbusters dominating the Chinese market, the Chinese film industry is ready to step up," said Ben Ji, managing director of Reach Glory Media Group and host of the discussion.
Panelists include Sid Ganis, former president of the Academy of Motion Picture Arts and Sciences, and Peter Li, managing director of China Media Capital, who will discuss the company's recent cooperation with DreamWorks. They will also talk about the Wanda Group's purchase of AMC Entertainment.
The screenings this year feature great diversity. A special session hosted by IMAX will show the 1986 movie Top Gun, starring a 24-year-old Tom Cruise. In a three-day run after Sunday in three theaters, Ang Lee's Life of Pi, Christopher Nolan's Inception and two installments of the Transformers series will also be screened.
Having worked on the restoration of classic Chinese films with the China Film Archive since 2011, the film festival will present two 1949 restored works - Zheng Junli's Crows and Sparrows and Chen Liting's Three Women. By the 2014 festival, there will be 10 restored films ready for screening.
The Shanghai Film Museum, which will serve as a cinema and an exhibition house for the film industry in Shanghai and China, will celebrate its grand opening on Sunday, with a restored screening of Alfred Hitchcock's Blackmail in the evening. Other Hitchcock films are featured at this year's festival as part of the retrospective screening section.
The museum will also host a conversation on Monday between renowned film directors Oliver Stone from the US and Johnnie To, from Hong Kong.
The festival market for film trading and the SIFF Project, aimed at spotlighting projects by young filmmakers for financial support, will run from Sunday to Wednesday.