Treaty can help bolster trade in business services, say experts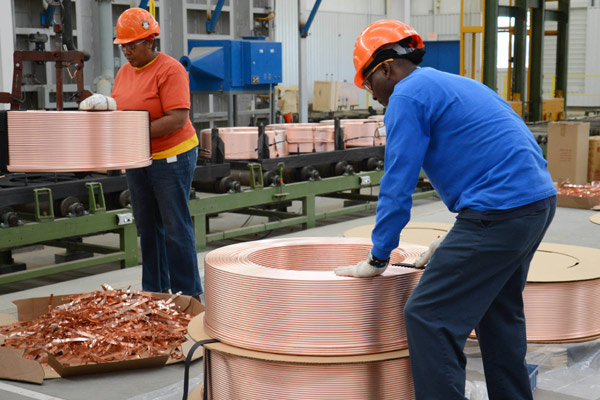 Employees pack copper tubes at a Jinlong Group, a Chinese company, facility in the US state of Alabama on Jan 21, 2015. [Liu Jie/ Xinhua]
China and the United States must step up the pace of negotiations on the proposed bilateral investment treaty that can help bolster economic growth for both sides, experts from both nations said on Friday.
The BIT is an agreement signed between two countries/regions that pertains to cross border investment. It assures foreign investors of non-discriminatory treatment and protection against unwarranted expropriation.
Fang Jin, deputy secretary-general of Beijing-based China Development Research Foundation, said traditional BITs, which are aimed at investment protection, are unlikely to unlock the true of bilateral investment between China and the US.
Efforts to achieve a BIT between the world's largest two economies were stalled for years, until a breakthrough was achieved at the US-China Strategic and Economic Dialogue in Washington in July 2013. China agreed to two steps that had been sought by the United States, helping revive the talks.
"The under negotiation China-US BIT will be ground breaking in the sense that it will be the first true investment promotion or free investment agreement, to borrow the name from FTA," Fang said.
He said it will also force both countries, especially China, to undertake domestic reforms aimed at creating a better environment and a much more efficient economy for foreign and domestic enterprises.
China has already signed bilateral investment treaties with 130 countries and regions in the world, according to the latest Ministry of Commerce data.
Bradford Jensen, senior research fellow at the Washington DC-based Peterson Institute for International Economics, said a Sino-US BIT would help bolster trade in business services.
"China is handicapped by its small, inefficient business sector and would benefit by importing efficient, leading edge services in engineering, design, development, testing, marketing, advertising, logistics and distribution to upgrade the sophistication of its manufactured goods. Both countries would gain from increased trade in business services," said Jensen.
Zhao Jinping, director of the department of foreign economic relations at the State Council's Development Research Center, said the relationship between a reigning world power and a rising world power is always a tricky one and the current Sino-US relationship does face a lot of challenges, chief among which is lack of mutual trust.
Signing the BIT can send a strong signal that the two countries are willing to compromise and resolve differences between them to improve the bilateral relationship, he said.
According to Zhao, the announced timetable for BIT negotiations during the 2014 China-US Strategic and Economic Dialogue is a clear indication of the strong commitment from both sides to push ahead and conclude the treaty as early as possible, despite predictions that it would be a long and difficult process.