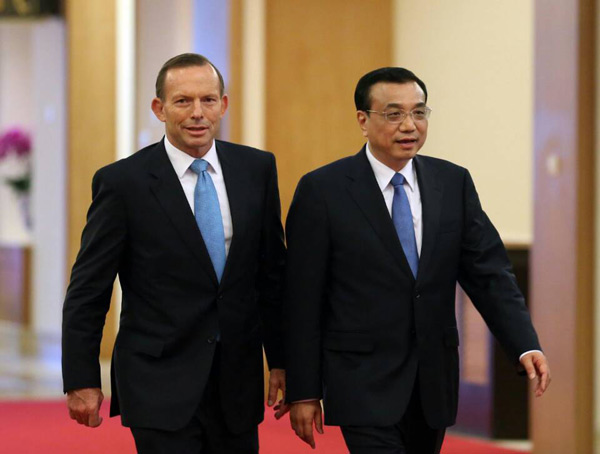 Chinese PremierLi Keqiang(R) walks next to Australian Prime Minister Tony Abbott in Sanya, Hainan province, April 9, 2014. [Photo byWu Zhiyi/chinadaily.com.cn]
Premier Li Keqiang said China and Australia should be more practical and make mutual concessions in pushing through the deadlocked bilateral free trade negotiations.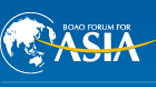 He made the remarks on Wednesday after Australia signed bilateral FTAs with Japan and South Korea.
"Signing a bilateral FTA as soon as possible is an important consensus being shared between China and Australia," Li said. "We hope both sides carry forward the talks in a pragmatic approach, make mutual concessions and ensure mutual benefits."
The two countries should strive to reach a "more balanced" agreement, he said.
Talks between Australia and China on the FTA have been underway for almost nine years. If a deal is signed, it would mark China's first FTA with a major developed economy and give Australian agricultural products easier access to the lucrative Chinese market.
Li and his Australian counterpart Tony Abbott met in Sanya, Hainan province, on Wednesday.
Li said China and Australia, two influential forces in the region, should expand cooperation in trade, investment, finance, education and defense affairs on the basis of respecting each other's key interests and concerns.
As East Asia is facing both opportunities and challenges, China is willing to work with other countries to build up regional peace, maintain stability and push forward development, Li said.
Hailing the visit to China as the "climax and highlight" of his trip to East Asia, Abbott said Australia is willing to become China's partner both strategically and economically.
He said Australia will speed up the progress of the FTA by promoting communication and mutual respect with China, and Australia welcomes more Chinese investment.
China is Australia's largest trade partner. Bilateral trade between China and Australia took up one-fourth of Australia's total trade volume in 2013, reaching A$150 billion ($140.582 billion).
In January and February, Chinese investment in Australia increased 31 percent year-on-year.
It is the first time Abbott has visited China as prime minister of Australia.