Wuzhen: Where modernity meets heritage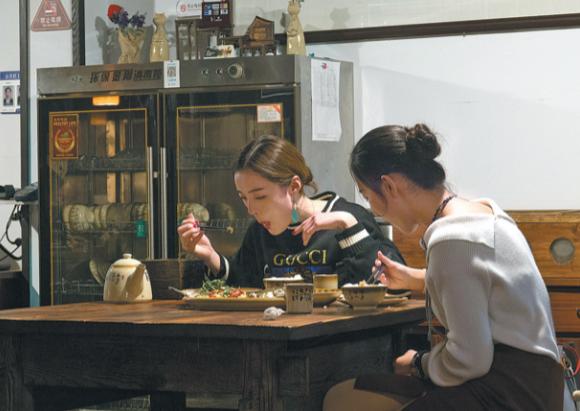 Two customers enjoy the healthy cuisine on offer at a restaurant in Wuzhen, Tongxiang city, Zhejiang province. GAO ERQIANG / CHINA DAILY
Located in Tongxiang city in Zhejiang province, Wuzhen is best-known for being the venue of the World Internet Conference, which has been held annually since 2014.
This year's conference will take place from Sunday to Tuesday.
Organized by the Zhejiang government and the Cyberspace Administration of China, the conference is a platform for discussing important issues regarding internet development and security.
The latest developments by major players in the technology and innovation sectors are also showcased during the conference period. Last year, Chinese internet giant Baidu Inc flaunted its new driverless cars during the conference period and allowed delegates to experience them.
Befittingly, Wuzhen has more than 2,600 Wi-Fi signal spots, allowing visitors to access the internet from nearly every corner of the town. It has also been reported to be the area with the most concentrated Wi-Fi coverage in the country.
But apart from being the hosting site of this event which has been attended by President Xi Jinping and other world leaders, Wuzhen also has a reputation for being one of the most picturesque water towns in China.
The town's transformation from a sleepy water village to a popular travel destination began in 1999 when hundreds of millions of yuan were invested into an ambitious project to restore the ancient buildings in the area, many of which were built as early as the Qing Dynasty (1644 - 1911).
Just two years later, the water town was included among the candidates for UNESCO's World Cultural Heritage List. In 2009, the Pacific Asia Travel Association named Wuzhen as its first eco-tourism location in the Chinese mainland.
Wuzhen is known to be the birthplace of a number of renowned Chinese personalities. The most iconic one is Mao Dun, one of China's most acclaimed novelists and cultural critics who authored the famous trilogy comprising Spring Silkworms, Autumn Harvest and Winter Ruin.
Such was this man's fame that the Mao Dun Literature Prize was created in his honor. Today, this prize is regarded as one of the most prestigious literature awards in the country.
Mao's former residence now stands as a museum exhibiting some of his personal belongings, manuscripts and photos.
The town's association with art and culture is one that has endured until today. Wuzhen, since 2013, has been hosting the Wuzhen Theatre Festival, which brings together a slew of productions from home and abroad.
The reception for this year's Oct 18-29 edition was a clear indication of the festival's popularity with theatre-goers: tickets to 15 of its 24 plays were sold out in just an hour after they were made available.
Last year, the old water town hosted Utopias/Heterotopias, an international contemporary art exhibition, across a refurbished derelict silk factory as well as indoor and outdoor exhibition spaces. Some of the works featured included those by internationally acclaimed artists Xu Bing, Olafur Eliasson and Damien Hirst. Later that year, Wuzhen hosted the International Project of Future Visual Arts, an event related to movies, games and visual arts industries.