New device lets you shoot VR photos and videos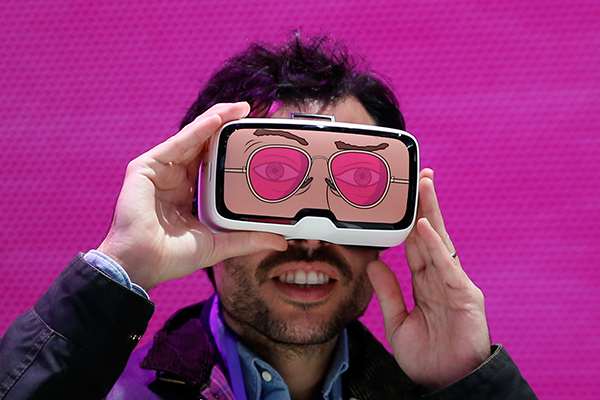 A man tests the"Zeiss VR One" virtual reality glasses during the Mobile World Congress in Barcelona, Spain. [Photo/Agencies]
Competition among smartphone makers has intensified as Shenzhen-based Protruly Vision launched the world's first smartphone that can shoot virtual reality (VR) photos and videos, which analysts call a "technological milestone".
Darling VR Smartphone, as the new product is called, features an AMOLED 5.5-inch display and four cameras, of which two are for 360 degree panorama photo and video shooting and the other two for plane filming, allowing users to move between the two modes freely. The created VR photos and videos can be previewed, edited and shared instantly.
The device is also able to monitor human health by measuring people's body temperature remotely when it is within 1 centimeter from its users.
Launched on Oct 24, the smartphone will be on sale this month in two versions - 3,980 yuan ($580) and 8,800 yuan for the deluxe option. The latter will sport gold and diamonds.
"At the moment, the smartphone industry is still in the plane visual age. Although the image quality of smartphones has been improving, there is barely any innovation in the mode of photography," said Tang Dechuan, chief executive officer of Shenzhen Darling Intelligent Technology Co Ltd, a subsidiary of Protruly. Protruly specializes in electronic vision.
"The unveiling of the VR smartphone signals that we have evolved from the age of plane filming to the new stereoscopic photography age," Tang said.
The launch comes at a time when domestic and international smartphone producers are competing fiercely to grab a bigger slice of the Chinese smartphone market.
The shipment of smartphones in China reached 115.1 million units over the third quarter of 2016, growing 5.8 percent compared with a year earlier, according to IDC.
In August, Samsung launched its new VR device Gear VR, paired with its Galaxy Note 7. But the smartphone has been recalled in China after a number of battery explosions.
Analysts say the advent of the VR smartphone means a technological breakthrough for the industry, but they are conservative over its prospects in the market.
"It is a technological milestone to integrate VR with smartphones, but the new device may not have a big market," said James Yan, the research director at Counterpoint Technology Market Research.
"Most people will not buy a smartphone produced by a company they don't know, even if it has innovative functions. The product may achieve better sales among industry users."
Jason Low, a Shanghai-based industry analyst with market research firm Canalys, agrees. "Some VR enthusiasts may find the product appealing, but for the mass market, it is difficult to justify it with the high price," Low said.
"Enthusiasts will also look at the quality of the 360 degree panorama video, as well as the battery life when they record and upload videos. It will be potentially helpful to people who do a lot of 360 degree panorama video creation, for example, real estate and house rental agents."