Fintech energizes real economy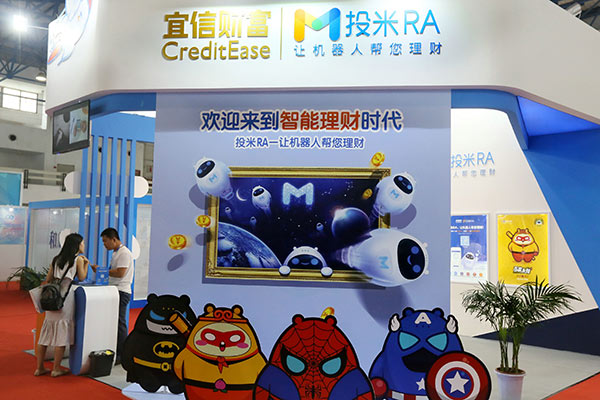 A prospective customer makes enquiries at a booth of CreditEase at a financial services exhibition in Beijing.[Photo by A Jing/China Daily]

CreditEase believes the sector will lead industry innovation and boost SMEs
Chinese financial technology or fintech firms are expected to lead industry innovation and facilitate growth of small and medium-sized enterprises or SMEs in the Asia-Pacific region, said an executive of a leading Chinese fintech company.
Tang Ning, founder and CEO of Beijing-based CreditEase, said tremendous development opportunities await fintech firms as well as peer-to-peer or P2P lenders in the next decade despite a stricter regulatory environment.
After more than 10 years of development, China's fintech has entered the world's top league. Its innovation in terms of technology and the business model will continue to improve the drive for financial inclusion and efficiency in financing, which will better serve the real economy, Tang said on the sidelines of the APEC CEO Summit in Vietnam earlier this month.
"The growth of fintech companies in the Asia-Pacific economies will keep momentum in the coming years, especially focusing on helping raise funds for small-scale businesses," he said.
"After the rapid development over the past decade, Chinese fintech firms, which mainly offer online payments, online transaction and P2P lending, have entered a mature stage, thanks to the backing of some global leaders such as Alibaba and Tencent. They can be seen as examples of fintech success."
In the next decade, Tang predicted, fintech will continue to develop, especially in insurance, artificial intelligence for wealth management, health care and pension industries.
The basic infrastructure for fintech development would include a national credit information system, which is expected to store non-banking personal financial trading data and individual credit records, he said.
"It will support the stable development of fintech and peer-to-peer lending in the next decade, preventing a personal credit crisis like that in South Korea and China's Taiwan."
Personal credit crisis always emerges when the same person borrows from many different lenders without an assessment of the accumulated total withdrawal risk.
To prevent any financial crisis arising from online lending activities or other innovative fintech businesses, China has tightened regulation since 2015.
Stricter supervision is expected following a recent article by central bank governor Zhou Xiaochuan, who warned inappropriate innovation in fintech may lead to systemic risks.
In July 2015, the China Banking Regulatory Commission together with nine other regulatory agencies jointly issued a series of policy measures, which formally introduced for the first time the regulatory framework and basic principles for administering the online lending information intermediary service industry in China.
The CBRC issued another set of regulations in August 2016 to further oversee online lending activities, saying local financial regulatory departments have the power to assess and classify the online lending information intermediaries. Such lenders must apply for appropriate business license before providing their services, it said.
CreditEase is focusing on providing inclusive finance and wealth management products and services in China, Tang said.
"As a fintech company, we should proactively comply with relevant regulations, which will benefit the industry's long-term, high-quality and sustainable development while preventing moral hazards."
Yirendai Ltd, a subsidiary of CreditEase, launched its online platform in March 2012, aiming to address demand from underserved investors and individual borrowers, match borrowers with lenders, and execute loan transactions.
Yirendai made its initial public offering on the New York Stock Exchange in December 2015, thus becoming the first Chinese fintech company to list overseas.
In the third quarter, Yirendai facilitated 12.19 billion yuan ($1.83 billion) of loans to 192,725 qualified individual borrowers through its online platform, representing a year-on-year growth of 117 percent, according to its financial report.
Yirendai predicted that by the end of this year, its total loans facilitated will be as high as 40.5 billion yuan, with a possible net revenue of 5.3 billion yuan.