China toughens IPO reviews to bolster market confidence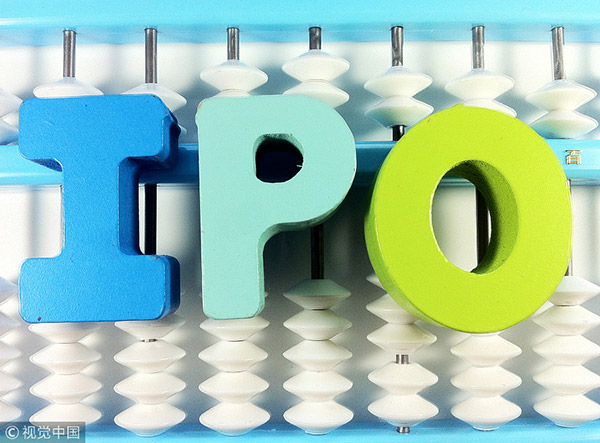 [Photo/VCG]
BEIJING - "It is the best of jobs, it is the worst of jobs," is how Chinese top securities regulator Liu Shiyu described the new committee he created to review IPO applications.
Early this week, a panel of 63 people in charge of reviewing IPO applications in the Chinese mainland swore in before the national flag.
The creation of the new committee indicates IPO reviews will become stricter, as part of measures to toughen supervision and punishment for illegal trading, after a market rout in the summer of 2015 shattered investor confidence.
The IPO review committee under the China Securities Regulatory Commission (CSRC) has the ultimate say in deciding whether a company is qualified to go public in China. It also regulates fraud.
Feng Xiaoshu, a former member of the review committee, bought a large amount of shares in a company, using the names of his relatives, ahead of an IPO and sold them for an illegal profit of 248 million yuan ($37.58 million).
China's review-based IPO approval system has been criticized by investors for giving reviewers too much power, while supressing the function of the market.
To put checks on the powers of reviewers, the CSRC has also set up a committee overseeing IPO applications, refinancing, and mergers and acquisition.
"No forbidden zones, full coverage, zero tolerance and life-long accountability" will be the duties of the supervision committee, Liu Shiyu said.
Two-thirds of reviewers on the new committee are full-time, selected from local securities regulatory agencies, exchange bourses, law firms and accounting firms.
One-third are part-time, selected from market traders, researchers and university faculties.
Since they assumed duties in mid-October, the new committee has reviewed 52 IPO applications, rejecting 16, suspending five and passing 31, according to Wind Info, a financial information service provider.
The approval rate is now less than 60 percent, significantly lower than 81 percent recorded in the first three quarters. Over the past three years, the rate stood above 90 percent.
Abnormal financial conditions, inability to generate sustainable profits and questionable authenticity of application documents were among the reasons for the rejections.
Tap4fun, a Chengdu-based mobile game company, was rejected for an IPO as it was found that it had run its mobile game and telecom value-added businesses without the necessary permission documents. It also lacked approval certificates of its business revenue, which raised doubts about its profits.
Observers say the success of an IPO approval will increasingly depend on authenticity not profitability. If companies do not have enough internal strength, pure luck will not help with an incoming IPO approval.
The commission has vowed to strengthen IPO regulation and keep a close eye on the practice of faking documents and dressing up company performances.
"We aim to build a review team with loyalty, integrity and unity. Strict rules will be applied to prevent significant IPO review risks to protect interests of medium-to-small-sized investors," said Gao Li, CSRC spokesperson.