Nation not 'major reason' for rebound in emissions
China will not become the "major reason" leading to a global rebound of carbon emissions in the future, if any, as many indictors show that China has moved away from relying on smokestack industries, according to China's top climate envoy.
"Carbon emissions do fluctuate, but a single indicator cannot reflect the whole picture," Xie Zhenhua, China's top climate envoy, said during the United Nations Climate Conference in Bonn, Germany.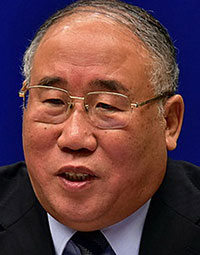 Xie Zhenhua, China's top climate envoy
His comment came after a report by the Global Carbon Project released during the ongoing UN Climate Conference which claimed that China's rising carbon emissions would be one of the major factors contributing to a rise in carbon emissions of 2 percent by the end of 2017, after remaining flat for three years.
The report predicted that, by the end of this year, China's carbon emissions would go up by around 3.5 percent year-on-year.
Xie said a rebound in a year does not mean that this will become a future growth trend.
In the meantime, in terms of many other indicators, China is making a positive contribution to global efforts to combat climate change, based on China's pledges in the Paris Agreement, according to Xie.
"The overall trend in the long term is that China is transforming to a greener development model," he said.
Evidence can be found in data, such as the decline in carbon emissions per unit of GDP, according to Xie.
China's carbon emissions per unit of GDP are on the way to fulfilling the Paris Agreement pledge to reduce the level by 40 to 45 percent from 2005 levels by 2020, declining 42 percent so far, he said.
Cheng Gong, a senior China National Coal Association analyst, said the rise is driven by higher coal and natural gas consumption, but it might be only a one-off event.
He said he expected a future declining trend, supported by sustained efforts to replace coal-fired industrial boilers with renewables.
China's carbon emissions may increase less than the 3.5 percent level mentioned in the report, and the overall level might decline by 0.5 percent to 1 percent next year, according to Yang Fuqiang, a senior analyst at the Natural Resources Defense Council.