UBS sponsors highlight of Beijing Music Festival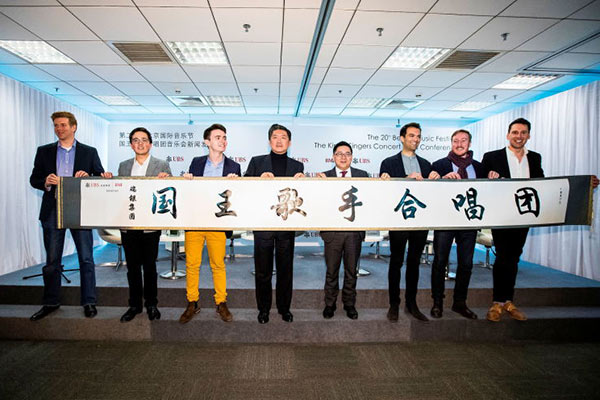 Eugene Qian (fifth from left) poses with The King's Singers. [Photo provided to chinadaily.com.cn]

Capital's cultural feast continues legend during its 20th anniversary
UBS, the giant Swiss global financial services firm, is honoring its promise to support the annual Beijing Music Festival by sponsoring high-quality performances.
To mark the 20th anniversary of the Beijing Music Festival and 14 years of partnership with the BMF, UBS is sponsoring a special concert featuring world-renowned British vocal ensemble, The King's Singers.
"We are delighted that The King's Singers have come to the Beijing Music Festival to stage a unique concert of songs by French and Russian composers, as well as American Jazz and Chinese folksongs," said Eugene Qian, the chairman of UBS' China strategy board.
"The BMF is already the most influential art festival in the Asia-Pacific region. It has not only provided quality cultural experiences, but also offered a benchmark for the sector in its professionalism and trend-setting leadership," BMF artistic director Yu Long told a news conference.
He added that UBS had always been committed to fostering the development of art, which was highly consistent with the aims of the BMF. UBS, it said, was not only a sponsor but also a leader in supporting the arts and culture.
Before The King's Singers, UBS worked with the BMF, sponsoring concerts performed by world-class pianists Li Yundi and Zhu Xiaomei and the organist, Cameron Carpenter, to name but a few.
The King's Singers bass, Jonathan Howard, said his group was glad to see the BMF working with UBS, a music ambassador and global pioneer. "For us, The King's Singers also tries to be ambassador for music of all kinds, all over the world," he added.
The King's Singers were formed on May 1, 1968, by six recently-graduated choral scholars from King's College, Cambridge.
Their vocal lineup was formed by chance and developed into two countertenors, a tenor, two baritones and a bass, and the group has never wavered from this vocal balance. Two Grammy Awards, an Emmy Award, and a place in Gramophone magazine's inaugural Hall of Fame sit among the numerous accolades bestowed upon the group.
Asked how they work with each other to produce their rich, distinctive sound, Christopher Gobbitas, answers that they draw from their different experiences to create a single product.
Eugene Qian, chairman of UBS' China strategy board, said there were parallels between how his organization in the music festival worked. "Just as the BMF brings artists from all over the world to create an overall experience, UBS takes people with different talents and specialties from all around the world and brings them together to create a better service," he said. Qian added that professionalism and collaboration were crucial for both art and business. "It is our professionalism and collaboration that has led to great success in China for UBS."
Celebrated performances
This fall, the BMF commemorates an important milestone, its 20th anniversary.
Rather than focus on specific composers such as Wagner, Strauss, or Verdi as in previous festivals, this year's theme is "BMF at 20."
The 22-day festival, lasting from Oct 8 to 29, is consist of 29 events
Established in 1998, the BMF has blazed an extraordinary trail over the past 20 years, during which time classical music in Beijing and its citizens' cultural life have experienced dramatic transformation.
The BMF has always played an important role.
Striving for continual growth and improvement, with strong support and under the leadership of its hosts – the Ministry of Culture and the Beijing municipal government – the BMF has established itself as a vital cultural spectacle in the capital and as a flagship event in the country's public culture.
Upbeat with Chinese market
Qian said that the UBS Group in China grew strongly in the first three quarters of the current year.
"Especially the wealth management business and investment banking businesses, which China is a key contributor to the global business map," Qian added.
Meanwhile, as the first Qualified Domestic Limited Partner (QDLP) to receive a private fund management license in China, UBS was recently authorized to offer private funds, which will also benefit wealth management. The license represents a significant milestone in UBS's progress in China.
UBS says its business in China contributes more and more to the growth of the firm's Asia-Pacific business and even UBS's global business. However, this is only the beginning, according to Qian.
As for further development in China, he had growing confidence for steady and sound expansion in the country.
"As one of the biggest beneficiaries of the reform and opening-up, UBS knows well about China's economy and society," he said.
"We are convinced that with the beginning of the 19th National Congress of the Communist Party of China, China will be more prepared to integrate with the global economy, and develop into the most important economy that boosts internationalization and multilateralism," Qian added.
With its huge confidence in the Belt and Road Initiative, UBS has already set up its own Belt and Road taskforce. This pays close attention to the business opportunities brought by the initiative and helps domestic enterprises to go global, according to Qian.