China a powerhouse of innovation: UBS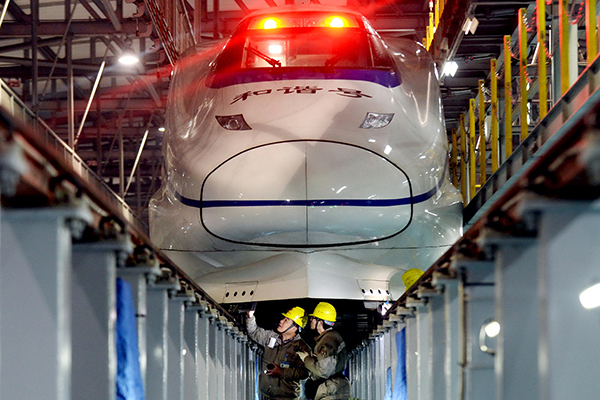 Two technicians inspect a high-speed train's wheels at a maintenance shed in Nanjing, East China's Jiangsu province. [Photo provided to China Daily]
A research report released recently by UBS recognized the innovation development of China in past five years, and predicts that China will become a global innovation powerhouse thanks to improved education quality, input in research and development and policy support to innovation, Economic Daily reported on Tuesday.
The current economic model of China is seeking a rapid transition from "Made in China" to "Created in China", and China is expected to rule the technology realm in various fields.
China has been growing fast in education, the report said. China sees 2.8 million graduates majoring in science and engineering every single year, which is five times compared to the US. The proportion of science and engineering graduates per 1,000 people in 2015 is also five times compared to 2005.
According to the QS world university ranking, the average score of top three Chinese universities has exceeded that of German universities. China is narrowing down the gap of academic performance with the US and increasing the advantage over European countries. China has moved up five places in the ranking list from five years ago.
The report also said that China has shown increasing investment in scientific research investment and financing.
Input in research and development in China today takes up more share of GDP than the UK. Meanwhile, the government has stipulated the goal in the 13th Five-Year Plan that the ratio of R&D input in GDP must reach 2.5 percent by 2020. Therefore, UBS predicts that China is likely to surpass the US in terms of the overall scale of research and development investment by 2019.
China's CAGR (compound annual growth rate) of venture investment in innovation has been up to 41 percent since 2012. Unlike in the US, where financing in innovative industry mainly relies on venture capital, multiple Chinese technology enterprises make a great deal of investment in internet and AI with their own funds. This establishes a relatively loose financing environment for the development of domestic innovative industry.
With the support of developed fundamental education and optimized investment environment, the patent applications of Chinese firms and individuals at the United States Patent and Trademark Office, an agency that issues patents to inventors and handling trademark registration for products, saw a tenfold increase in the past decade, surpassing the UK.
UBS emphasizes the superiority that China has in exploring AI and fintech and in their view, Chinese enterprises have played a critical role in guiding the direction of global technology development. Its particular advantage in AI can possibly enable China to revolutionize the manufacture industry in respect of technology.
The key for innovation development is Chinese government's promoting and implementing the pro-innovation policies, the report said. Within the last five years, the government has dedicated itself to modernize the economic sectors and boost the industrial value-added and specified the ratio of innovation input in the national Five-Year Plan, which buoys UBS's confidence in China's economy.