Tencent unit gains from HK frenzy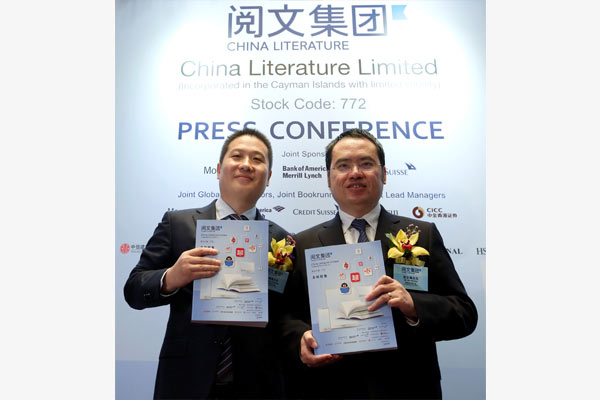 China Literature Co-Chief Executive Officers Liang Xiaodong (left) and Wu Wenhui pose during the pre-IPO launch conference in Hong Kong on Oct 25.BOBBY YIP/REUTERS
China Literature initial public offering gets oversubscribed by 620 times
Tencent-backed China Literature, mainland's largest online publishing and e-book company, has proven to be a money-spinner of sorts at the bourses after it raised about HK$520 billion ($66.7 billion) from its planned initial public offering in Hong Kong on Wednesday.
The company seems to have gained from the burgeoning appetite for new economy companies in Hong Kong as it raised the second largest amount through an IPO in the city's history. It had planned to raise $1.1 billion from the IPO. China Literature saw its retail tranche oversubscribed 620 times after it closed for subscription on Tuesday. With this it has become the most popular IPO in Hong Kong after China Railway Construction Corporation, which raised HK$535.4 billion in 2008.
China Literature, in which Tencent holds a 65.38 percent stake, is expected to price its IPO at HK$55 per share, at the top end of the HK$48 to HK$55 indicative range, according to local media, citing sources familiar with the matter.
Investors are confident that China Literature's stock price would see a stronger growth on its first day of trading than the mainland's first digital insurer ZhongAn Online Property & Casualty Insurance, which went public on the Hong Kong bourse in September. Shares of ZhongAn jumped by 9.2 percent on its first trading day in Hong Kong.
Established by the three Mas-Alibaba chairman Jack Ma Yun, Tencent Holdings chairman Pony Ma Huateng and Ping An Insurance chairman Ma Mingzhe, ZhongAn took up about HK$200 billion of capital in the IPO, and was nearly 400 times subscribed ahead of its Sept 28 debut, making it the most popular IPO this year at that time.
"Zhongan can benefit from the 'three Mas effect', that is why I bought its shares. And seeing the strong momentum of Zhongan's share prices, which surged 31 percent from its first listing day, I am confident that China Literature, which is backed by Tencent, will have a similar growth and will stay positive in the long-term," said Cathy Ng, a 28-year-old investor who subscribed to both Zhongan and China Literature.
Linus Yip Sheung-chi, chief strategist at First Shanghai Securities Ltd, noted that Hong Kong investors have high expectations for new economy companies, and the brand effect of China Literature, as a subsidiary of Tencent, has stimulated investors' enthusiasm to subscribe for its IPO.
"Both ZhongAn and China Literature have very strong platforms behind them, like Alibaba and Tencent, which are very popular among investors," he said.
"Their success will strengthen the confidence of other new economy companies from the Chinese mainland who are planning to list in the Hong Kong market," he added, expecting China Literature to record a double digit growth on debut.