Woman turns traditional handicrafts into popular products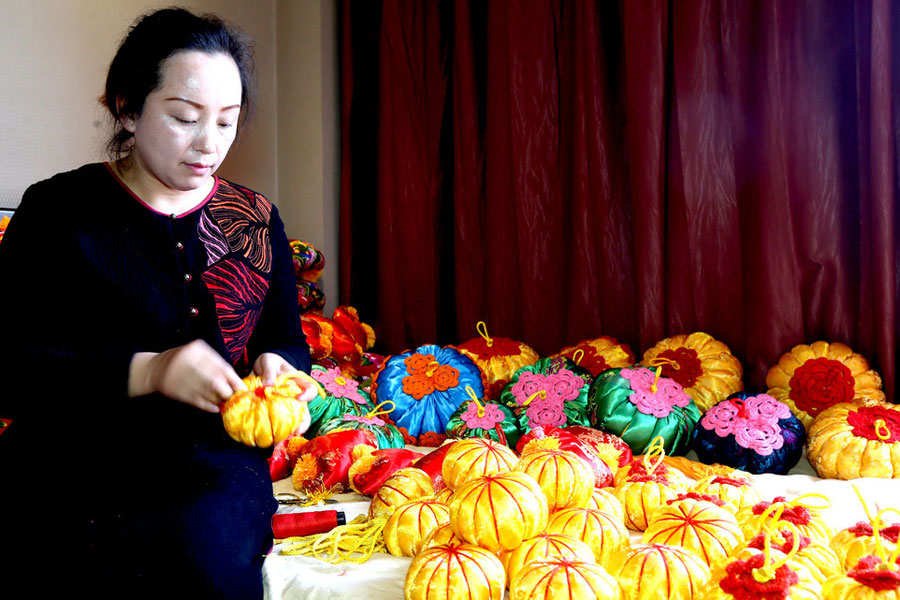 Wang Caihong makes a small pumpkin sachet in Zhumadian city, Central China's Henan province, on Oct 27, 2017. [Photo/IC]
Wang Caihong has revitalized the traditional handicraft Yunjian thanks to her deep love of her grandma and the popular products earn her 10,000 yuan ($1,508.58) per month in Zhumadian city, Central China's Henan province.
Wang learned to make Yunjian, a traditional Chinese shawl for women, from her grandma who had brought her up since her mother died when she was 9 years old.
Initially she learned to make Yunjian out of curiosity and fascination and didn't expect to be the 10th generation inheritor of this traditional art.
Wang picked up this skill when her grandma got sick and she had to quit her job and return home to take care of her.
Small pumpkin was Wang's favorite food and her grandma, who loved her most, would keep the biggest one for her to eat. Her grandma loved her so much that she wouldn't eat the one kept for Wang, even if it meant the pumpkin became rotten.
To show her deep love to grandma, Wang created new type of products by combining small pumpkin with traditional Yunjian making.
The small pumpkin sachets made by Wang become popular and she began making hundreds of thousands yuan annually.
To revitalize the traditional handcraft and pass on skills of the intangible cultural heritage, Wang broke the traditional rule of only teaching female members of the family and taught many strangers how to make Yunjian.
Wang also made great effects in technical innovation to bring happiness to more with this traditional Chinese skill.