Fashioning a brand's evolution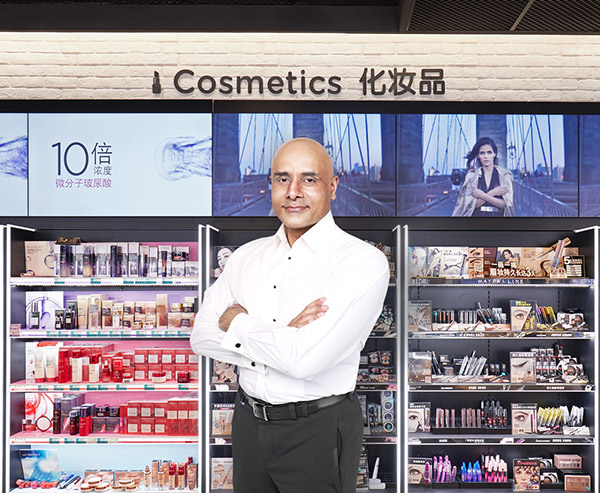 Kulvinder Birring, acting CEO of Watsons China, plans to turn his firm into a top fashion brand in the Chinese market. [Photo provided to China Daily]
Kulvinder Birring leads beauty and health chain Watsons China's transformation into a lifestyle label
At 2 pm on a hot, humid and hectic weekday in Guangzhou, Guangdong province, Kulvinder Birring, acting CEO of Watsons China, is unfazed, spirited, full of energy.
Is this guy for real? He appears more like a footballer restless before a key kickoff than a corner-suite occupant. Sitting upright, he reaches for a mint box and a coffee cup, and consults his smartphone for his schedule.
Since April, he has been leading China's largest health and beauty retailer, intent on turning it into a top fashion brand.
The going has not been easy. The interim results of Watsons' Hong Kong-listed parent company showed that first-half revenue from the Chinese mainland was HK$10.6 billion ($1.35 billion), down 6.2 percent year-on-year but better than the previous first-half's 8.5-percent decline.
The company attributed the decline to currency exchange rate fluctuations, and external and cyclical factors.
The pressure is on-Birring, 46, knows it too; but his demeanor is, well, one of a restless footballer who can't wait to kick, pass, head and tackle.
He is aware the China market's backdrop is a retail sector in the throes of stiff challenges.
According to a report by the China Commerce Association for General Merchandize, which surveyed more than 200 retailers across China in the first half of this year, about 58 percent of retailers have experienced declining revenue.
"Some shut down outlets to reduce losses, and some upgraded their stores to bring about an upswing," said the research note.
Birring, with a proven record in turning failing businesses around and growing profits within a short period of time, is expected to do an encore.
Prior to his latest job, he served as COO of Watsons China. Before that, 2009 onward, he was MD of Watsons Malaysia. Throughout, sales grew rapidly under his stewardship.
Asked how he would apply his "magic" solutions to turn the current situation into great success in China, Birring said, "At Watsons, we don't necessarily believe in luck, especially in the retail business.
"Focusing on the customer is one of the key things. For me, it's a longer term strategy and it takes time to implement, but ultimately I think it's about creating a business that has a real focus on the customer-that's always been my philosophy."
In China, Watsons is investing significantly in developing both online and offline channels. An obvious change that consumers may find at many of Watsons' refurbished or "G-next" (generation-next) stores is the new location of shelves for cosmetics-they have been moved from corners to upfront with more space, more lighting and more assortments.
Birring said that the rejig is in alignment with Watsons China's move to win back customers, "to understand who they are, what they want, what their preferences are, and catering to their needs".
The profile of Watsons' customers remains the same though: young, female, trendy, early adopters-but the speed of accepting new ideas is getting faster.
Another challenge in China is the diversification of communication channels. Social apps, news apps, mobile media, direct marketing, friends and key opinion leaders or KOLs could all be sources of information.
This would mean Watsons needs to deploy more resources in both online and offline channels. "Digital is definitely something we pursue now. You can get in touch with us via our website, WeChat, and our app Wosun (pronounced like 'Watsons' and meaning stem lettuce)," he said.
As for brick-and-mortar stores, their number grew from 2,920 at the beginning of the year to more than 3,040 in August.
Technologies like virtual reality, and "beauty artists" (trained shop assistants who demonstrate cosmetic products), will help consumers to choose products as per personal tastes.
"We are not selling products we want to sell. We are selling what consumers need. What I want to create is an environment people will come and explore. Watsons should be a playground, especially as cosmetics are about having fun, and it's not a serious category. We are constantly evolving and trying things-it's like 'have a go, have a try'."
Focus on high value-added products and services would put Watsons in competition with more market players. In the past, Watsons' major competitors included Manning's and convenience stores selling personal care products and cosmetics. The latter are growing in number. New competitors include the cosmetic floors of shopping malls, and cosmetic retailer Sephora.
Birring said he prefers to do a few, not many, things at a time and do them well, focusing on the real advantages of Watsons.
"I want Watsons to be the No 1 beauty brand, top of mind, for Chinese consumers, and if consumers recognize Watsons as a fashion brand, not just as a beauty brand, I'll be happy with that," he said, in the manner of a restless footballer about to score a splendid goal.