Lego looks wobbly after strong profit base starts to crumble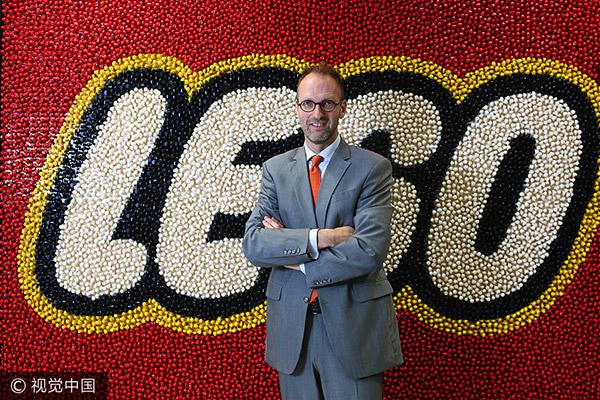 Joergen Vig Knudstorp, chairman of the Danish toy company Lego, has announced plans to cut 1,400 jobs, or 8 percent of its global workforce. [Photo/VCG]
COPENHAGEN-For Lego, it is time to break down the blocks and start again.
After building up sales aggressively since near bankruptcy in 2004 through new ventures such as films and creative toy lines, the Danish company seems to have hit a peak.
Its sales are now falling for the first time in 13 years and it needs to rework its operation.
In simple terms, that means cutting 1,400 jobs or 8 percent of its global workforce.
Earlier this week, the famous toy brand announced that it was "now prepared to reset the company," with a new chief executive officer due to take over next month.
In August, Niels B. Christiansen, who headed thermostat-maker Danfoss for nine years, was named as the replacement for interim CEO Bali Padda.
"We will build a smaller and less complex organization than we have today, which will simplify our business model in order to reach more children," said Joergen Vig Knudstorp, chairman of Lego A/S.
Knudstorp was only 35 when he took over the top job in 2004, and set about reviving the group's core business.
Making an instant impact, he fired consultants and hired new designers to come up with higher-margin products that were more up to date.
At first, it appeared to work for Lego, an abbreviation of the Danish leg godt, meaning "play well".
But after strong growth, revenue dropped 5 percent in the first six months of this year to 14.9 billion kroner ($2.4 billion).
This was mainly a result of weaker demand in key markets such as the United States and Europe, where sales have been "solid" for years.
Profits also slipped 3 percent to 3.4 billion kroner.
Even so, classic toy lines, such as "Lego City," have done well, as have products associated with "The Lego Batman Movie."
But revenue in other lines slumped with investments in some new products not yielding the desired benefits.
"I am very much accountable for the situation and for the results," Knudstorp said.
"We've been through a decade of very high growth and during those years we have invested a great deal," he continued, noting that the company hired more than 7,000 new staff between 2012 and 2016.
"We have now realized that we have built an increasingly complex organization to a degree that makes it difficult for us to realize our growth potential. What we have unfortunately seen is that despite the continued high level of investment, these have not materialized into a good harvest," Knudstorp added.
In March, the family-owned group stated that mid-to single-digit growth rates were more realistic for the years to come, but revised those expectations downward earlier this week.
"We are not saying specifically whether we will grow in the next two years or not," Knudstorp said.
Analysts pointed out that while the drop in revenue was disappointing, it had to come at some point after years of growth.
"You hit a peak," said Jim Silver, CEO and editor in chief of toy review site TTPM. "Nothing keeps going up like that."
He was quick to mention that the company grew rapidly after launching new products, such as its Lego Friends line aimed at girls. The Lego Movie, which was released three years ago, also helped.
Looking ahead, Silver is still expecting Lego to have some bright spots this year.
The company's "Star Wars" sets are selling well and this month's movie release based on its "Ninjago" line could have kids asking for Lego toys again.
But the traditional industry as a whole is coming off a strong few years fueled by innovation and a boom in interest in collectibles.
Knudstorp felt the long-term aim was to get sales growing again in Europe and the US, and noted opportunities "in markets such as China," where sales were up by double digits so far this year. But the company will need to simplify its business model to reduce costs.
Part of a new push will include trying to engage kids and parents through online products, such as digital social platforms and coding sets, although the physical plastic toy blocks remain the focus.
"The brick is the heart of our business," Knudstorp said.
He told Denmark's TV2 station that staff cuts would mainly affect administration and sales, not production.
These would include up to 600 redundancies at its headquarters in Billund, Denmark, the majority of them before the end of 2017. The company employs 18,200 people.
ASSOCIATED PESS-REUTERS