Investors throng youth housing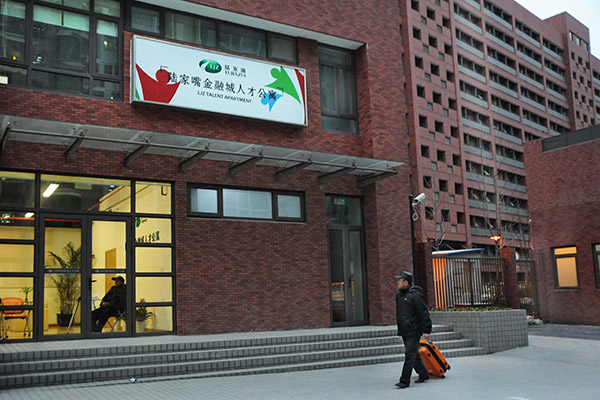 A block of high-end rental homes targets finance professionals working at Lujiazui in Shanghai. [Photo provided to China Daily]
Prospective tenant Zhang Youyuan was asked some 20 questions at an interview by the operations team of a youth apartment community in Suzhou, Jiangsu province.
They sought to know her age, views on friendship and networking, whether she likes cooking, gardening and partying at night, even how she would talk to people she does not like.
"It felt like a really serious, formal job interview," she said.
She was told she passed the test with flying colors, but was still put on the "waiting list".
The youth apartment community was fully booked in August. Should someone move out, she would get to rent a flat this month.
In the interview, she scored big for her "amiability" and "social networking skills", she was told. The interviewers told her she would make a nice "community buddy" in the neighborhood.
Zhang said she felt a little bit "excited". She has been longing for an opportunity to live in a community of young tenants. She fancies the one she had watched in US sitcom Friends and The Big Bang Theory.
And when she found that youth apartment communities had mushroomed in China in recent months, she decided to move out from her parents' home.
For Zhang, renting a home marks the first step toward being really independent and having some fun.
And for the market, millions of young tenants like Zhang yearning to live in a "community" signify the "taking-off" of a new sector in China.
Since the beginning of 2016, more than 20 brands of youth apartment communities emerged across China, financially backed by real estate developers, venture capital firms, hospitality groups and real estate agencies.
For instance, MoFang Apartment, which started in 2010, operates more than 30,000 units of apartments across China. It has received more than $500 million in funding so far.
Developer China Vanke is keen on creating 150,000 rental units by 2019, while Longfor Properties aspires to add 30,000 units in the next two years.
In Wuhan, postgraduate student She Youyuan launched a startup in 2017 targeting young residents like Wuhan locals and students hailing from other places who wish to stay in rental apartments after graduation.
The startup received 10 million yuan ($1.5 million) in funding in just one month. It kicked off its first community with 80 rental flats.
"Each of the units is not really spacious but designed in a compact style, well facilitated and space-efficient," she said.
The benefit of living in a community lies in spending time in common areas such as the lobby and the reading room.
"Big or small, investors are pouring money into the market as youth apartment communities are so widely accepted and embraced by young residents," said Wang Hongfan, a real estate agent with Shanghai Huayu Property Services.
Fixed rentals renewable on annual basis, convenient services such as laundry and parcel delivery, and pick ups make young residents feel "well-attended", said Wang.
The young tenants like to mingle and use common spaces in spare time, which are not offered in ordinary rental apartments.
"It is really interesting to see that the young would love to pay 4,500 yuan per month for a 25 square-meter studio. With that budget, they can have a two-bedroom apartment with a spacious living room. But they just don't want to stay alone," he said.
The sense of "community" relies much on the operational capacity of the properties. Each such facility is expected to run a series of events to bring strangers together and make them acquainted.
"The monthly birthday party is essential, and other events such as oil painting workshops, baking lessons, and cycling club outings will add to our residents' living experience," said Mao Yu'er, operations team member at Yujia Property in Shanghai.