Building for a better tomorrow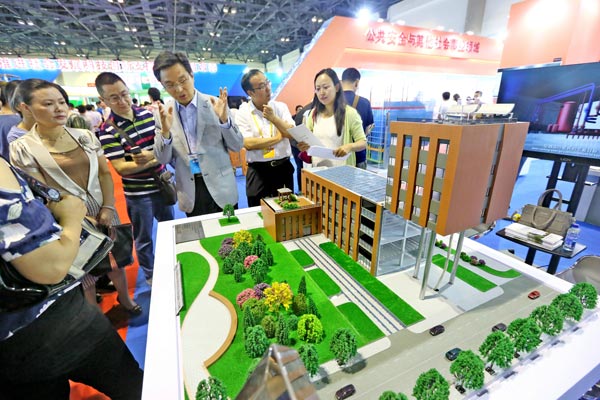 A scale model of an energy-saving building is shown at an innovation exhibition in Beijing. [Photo by Da Wei/For China Daily]
Song Yingqian is on a roll. She was desperate to live in an apartment in a new energy-saving building along with thousands of other property hopefuls.
The development was so popular that the "new tenants" were selected through a lottery process.
Luckily, Song's name popped out of the computer. Now, she can eventually buy the flat if she lives there for more than five years.
"I was so fortunate," the 32-year-old accountant, who works in Beijing, said.
Indeed, she is because her two-bedroom apartment, like all the others in the bloc, has the latest green technologies.
"Solar water heaters are in every apartment," Song said. "It will save me 450 yuan ($66.2) on my electricity bills annually.
"The building also has energy-efficient elevators and hallway lights in public areas," she added.
Gardens also surround the development in the northwest Haidian district of Beijing, with the tower blocks designed to maximize "sunlight and rainwater for irrigation".
Buildings such as the one Song will move into are the future in a city that suffers from congestion and pollution.
Data is sparse on the construction of green residential property. But overall the construction industry in China is expected to exceed $1 trillion by 2020, with an annual growth rate of 4.7 percent.
"The proportion of green residential developments will also continue to increase during the same period," BMI Research stated, although again figures are scarce.
China has the largest construction sector in the world and is redoubling its efforts to create cleaner, smarter and safer buildings.
Green property tends to be environmentally friendly and energy efficient. This also includes the building materials and design.
In the 13th Five-Year Plan (2016-20), China set out goals for green building construction and renovation. By 2020, at least 50 percent of new urban buildings have to be certified as "green".
To help jump-start this transformation, leading engineers and scientists in China, together with overseas experts, have been working closely on building technologies and solutions.
Among the list of priorities is energy and water reduction as well as carbon emissions from building sites.
In March, China's Center of Science and Technology and Industrialization Development, under the Ministry of Housing and Urban-Rural Development, improved the labeling system for green buildings in the country.
The Green Building Evaluation Label, or Three-Star Rating System, evaluates projects based on six categories, including land, energy, water and material efficiency.
The rating system was built around software developed by International Financial Corp, a member of the World Bank Group. It also encouraged the use of geothermal, hydropower, wind, and biomass energy over traditional fossil fuel options such as coal.
"The initiative will create an international platform to enable continuous improvements of China's green building labeling system," said Song Ling, vice-director of the Green Building Development Department at CSTID.
Construction companies are also putting together partnerships to promote sustainable and green building practices.
In June, Volvo Construction Equipment, an international heavy equipment manufacturer, and the China International Contractor Association signed a memorandum of understanding to increase cooperation in sustainable infrastructure construction.
"China is the biggest single market in the world," said Francis Sum, president of China with Volvo Construction Equipment.
"It is also one of Volvo CE's four key market areas, and we have taken a systematic approach to investment here," Sum added.