New projects push office rents lower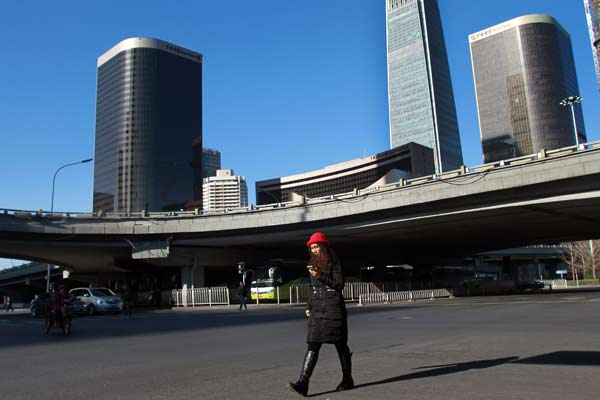 A woman saunters through the central business district of Beijing. [Zou Hong/China Daily]
Beijing's office space market is projected to see continuous downward pressure on rent prices in 2017, due to a glut of supply and high inventory, industry reports say.
Vacancy rate for Beijing offices is estimated to remain at a high level, according to a recent report published by Savills China.
"Despite more new supply, we have not yet seen a significant growth trend of demand (for offices in Beijing). It is predicted that, in 2017, the vacancy rate will likely increase, while the rent will decline slightly," said Xiong Zhikun, head of project & development consultancy at Savills China.
The vacancy rate of Beijing's offices is estimated to reach 11.9 percent by the end of this year, an increase of 3.9 percent from late 2016, according to an analysis by real estate advisory firm Colliers International Group. Meanwhile, the report predicts that office rents will decline by 1.1 percent year-on-year.
Such gloomy prospects can be attributed partially to a glut of supply and high inventory, according to Savills' report.
It shows 15 office buildings at Grade A level in the capital will be completed and delivered in the coming year, adding another supply of 1 million square meters. The market's inventory exceeded 9.92 million square meters by the end of 2016.
Offices coming from the new supply wave will outperform older buildings this year because of their higher quality, according to a report of real estate advisory firm Jones Lang LaSalle.
"Domestic firms will continue to serve as the primary source of demand, as foreign tenants continue to have greater cost-sensitivity," said Eric Hirsch, head of office leasing for JLL in Beijing.
"While Beijing will remain an important base for North China operations, slower growth in the country has reduced the urgency in companies' China expansion plans."
JLL also said that local finance firms, despite the overall softening in demand, continued to dominate the leasing market, accounting for 46 percent of Grade A transactions in the last quarter. However, demand from the technology sector, which had surged in the last two years, was cooler than before and shifted to more outlying, low-cost locations.