As rents drop and supply rises, office space turns hot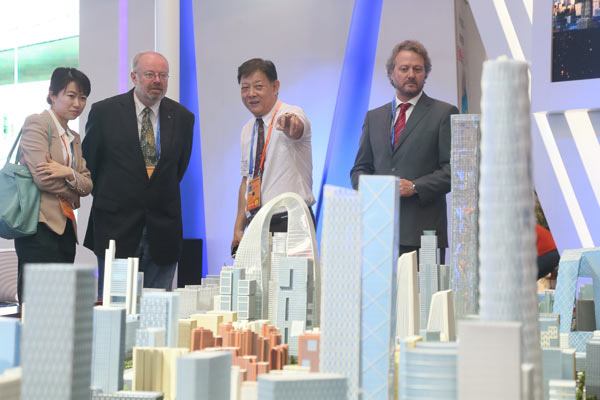 Foreign visitors look at the model of the Beijing CBD district at a property industry expo. [Photo provided to China Daily]
The rent for Grade A office in Beijing's Central Business District is expected to drop 15 percent by the end of 2021 as supply is expected to rise from this year, industry experts said.
The Grade A office vacancy rate in Beijing rose to 6.1 percent from January to March, up 0.5 percent from the level of the last quarter of 2016, leading to a 0.2 percent decrease in the average monthly rent to 335.1 yuan ($48.6) per square meter, according to a report by Savills, a London-based real estate adviser.
Four new projects contributed 153,000 sq m of working spaces to the local market in the first quarter of 2017. With that, the leasable high-end office space in Beijing has grown to 10.08 million sq m, said Xiong Zhikun, head of project and development consultancy at Savills China Research.
Nine more construction projects would be launched this year, which are expected to bring Grade A office spaces of 670,000 sq m to the city, he said.
As Beijing put forward the Beijing-Tianjin-Hebei province integration plan, more business and government establishments will be relocated from central Beijing, thus leading to a demand for office spaces in suburban areas of the city, according to a research report by Jones Lang LaSalle, a US-based Fortune Global 500 real estate and investment management services enterprise.
Tongzhou and Lize, two suburban areas of Beijing, will contribute 2.77 million sq m of office space to the city by 2021. The emergence of a new city hub, therefore, will lead to a double-digit rental decline in the Beijing CBD, said Eric Hirsch, head of markets of JLL Beijing.
"The increasingly competitive market will reward landlords with well-planned leasing strategies, as the huge amount of future supply provides tenants with more options and drives the shift towards a tenant's market.
"More companies are requiring better quality buildings, particularly as health and productivity take on new levels of urgency in the race for talent."
Fifty-nine percent of the Grade A space in Beijing was rented by domestic companies last year, up from 52 percent in 2015, according to the JLL's survey of 70 Grade A office buildings in Beijing.
"As market maturation continues, we expect to see this trend deepen and domestic firms will increasingly dominate the market, similar to how US firms make up the majority of the New York market," said Hirsch.
Much of future demand would come from the rise of the finance sector, IT firms' need to upgrade their premises, and China's burgeoning global companies, he said.
Also, China's Belt and Road Initiative will encourage domestic companies to step up their growth and thus contribute to the demand for space to set up headquarters in Beijing.
"As homegrown giants expand overseas and require more office space to oversee this activity from a dependable home base, the Chinese capital will have the most to gain as it is already home to a high density of decision-makers, in both State-owned enterprises and private sector firms," said Steven McCord, head of research for JLL North China.