WeWork, startup that rents office space, now in Shanghai
Updated: 2016-03-23
( China Daily USA )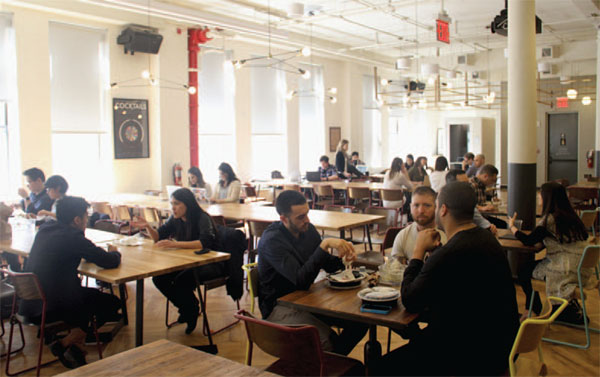 WeWork, a US co-working office company, has opened a branch in Shanghai. The friendly interior design of its headquarters in New York's Greenwich Village highlights its efforts at community-building. Long Yifan / for China Daily
WeWork, the office space startup whose valuation has been put at $16 billion, has opened operations in Shanghai, its first location in China where the co-working rental space is crowded with other companies.
"In Shanghai, consumers needed us, so we went there," Fred Lu, the newly recruited general manager for Shanghai, told China Daily. "We have confidence in the Chinese market," he said when asked about the current business climate. Lu previously worked for GE Co, Microsoft and Baidu in China.
WeWork is in Shanghai's busy downtown district of Jing'a, where it leased an office building for renting space.
Outside of China, the company's individual renting packages start at $45 a day for a desk to $450 a month. Lu said the company's pricing in China will be set after marketing strategies are finalized.
Jennifer Skyler, public communications director at WeWork's New York headquarters, said the operation in China is focusing on finding staff knowledgeable about the Chinese co-working market.
WeWork recently raised $430 million from Chinese investors in a fundraising that values the office space startup at $16 billion and will help it expand into Asia. Lenovo was the leading Chinese investor.
For WeWork, there is an abundance of Chinese competitors in the world of flexible workspace, with more than 1,600 startup incubators in China offering space as well as such services as consultations with lawyers, accountants and business consultants from top firms.
They include 36Kr, Regus, XNode, URWORK and People Squared, one of Shanghai's oldest co-working spaces, which opened in 2010.
36Kr is a leading entrepreneur incubator whose investors include Alibaba founder and chairman Jack Ma and investment firm Innovation Works. Kaifu Li is the founder and CEO of Innovation Works. He was the vice-president at Google Engineering and president of Google Chinese Operations.
WeWork was founded in 2010 by Adam Neumann and Miguel McKelvey. According to the company, it achieved profitability one month after launching. In 2015, WeWork's income surpassed $400 million and was called the networking unicorn in the US entrepreneural industry.
In February 2014, WeWork's investors valued the company at $1.5 billion. With its latest fundraising, its valuation had jumped to $16 billion, making WeWork, on paper, the world's sixth most valuable company, FastCompany magazine reported this week.
The magazine said WeWork now has 80 co-working spaces in 23 cities around the globe, and its 50,000 space-sharing members range from startups to big companies like pharmaceutical company Merck & Co, and American Express.
In the US, WeWork emphasizes Western office culture, including craft beer, arcade games and an annual camping retreat.
Liu Xiaoyu, business analyst at 36Kr, said the success of WeWork's business model comes from the two founders' experience in US real estate.
"They selected good locations for their business, and they were innovative enough to integrate the concept of public business zones in hotels into the shared office business," Liu said.
Zhong Shu, CEO of 36Kr, said WeWork faces many challenges to expand in China.
"For Chinese real estate business, the cost of capital accounts for 2 to 3 percent of the total cost, while the sale and rental ratio ranges from 8 to 9 percent," Zhong said. "But in the US, it is the other way around."