Capacity building key to growth of green financing: economist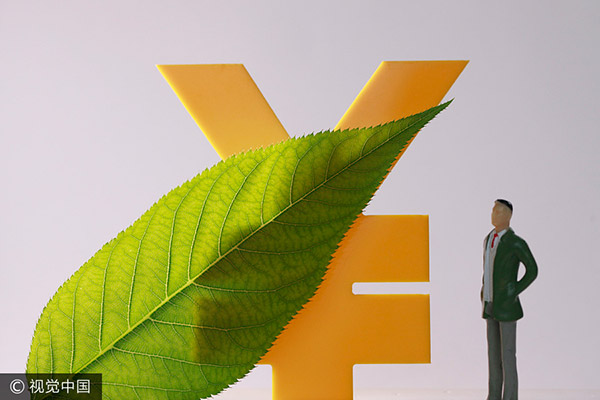 [Photo/VCG]
Ma Jun, chief economist of the research bureau of the People's Bank of China, the central bank, called for capacity building for the development of green financing at an event in Beijing on Monday.
Now that the domestic and international community has reached a policy consensus on green financing, "a more arduous task will be capacity building at various levels", said Ma, who is also head of the Green Finance Committee of the China Society for Finance and Banking.
He called for improvement in capacity to develop analytical methodology and tools, to create a variety of green finance products and to train talents.
Capacity building
Many institutions in China are not aware of the tools for analyzing environmental risks, such as scenario and sensitivity analysis tools, which can help them to fund more capital into low carbon and green industries, Ma said.
There is a lack of awareness about how to quantify the benefits and costs of environmental projection projects, he added.
"If you invest in a green project, you should know how much the project can cut carbon emissions, reduce sewage discharge or save energy. These should be all quantified and require a lot of research and development work," he said.
Ma also called for capacity building in development green financing products. He gave examples of how insurance products for green projects, asset-backed securities and carbon emissions rights collateral products can play a positive role in green financing, urging banks, insurance, securities and asset management companies to do more research in this regard.
"Green finance also requires a lot of talents," said Ma, pointing to the shortage of talents at local governments and banking intuitions.
He spoke highly of the efforts made by the International Institute of Green Finance of the Central University of Finance and Economics in training specialty talents and encouraged it to do more.
The institute, established in September last year, was the country's first institution committed to promoting the development of green finance. It aims to become a leading international think tank for green finance, according to Wang Yao, head of the institute.
Policy support
China's State Council specified for the first time that the country will establish a green finance system in a document on ecological system reform released in September 2015.
In August 2016, the PBOC and several ministries published a guideline on building the green finance system which included 35 suggestions.
In June this year, the State Council approved a plan for developing five new green finance pilot zones in Zhejiang, Guangdong, Guizhou and Jiangxi provinces, as well as in the Xinjiang Uygur autonomous region.
These indicated green financing has become a national strategy with concrete measures, Ma said.
In the global front, green financing was included into the G20 Leaders Communiqué at the Hangzhou summit in September last year, signaling another step forward for the mainstreaming of green financing globally, said Ma.
Boosted by the government's pledge to green development and policy incentives, China's green finance market has boomed since last year.
According to credit rating agency Moody's, China accounted for nearly 40 percent of new green bond last year, followed by the United States, France and Germany.
Data from the China Central Depository and Clearing Co Ltd showed China issued 79.39 billion yuan ($11.52 billion) of green bonds in the first six months this year, up 33.6 percent from the same period last year and accounting for 20.6 percent of the global total.
In an earlier event in March, Ma estimated that China needs at least 2 trillion yuan of green investment annually over the next five years to promote environmental protection and reduce pollution.