China boosts green efforts around world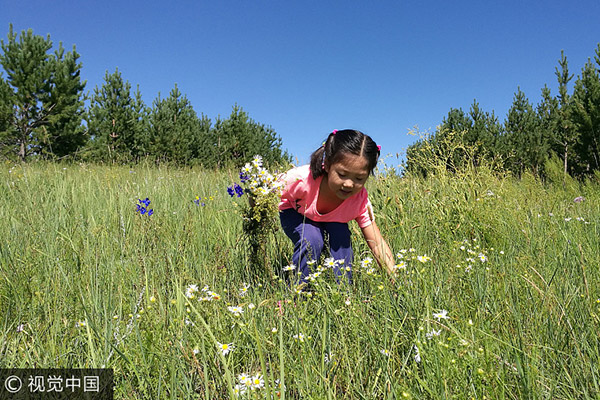 A little girl palys at man-made Saihanba Forest Farm in Hebei province, Aug 5, 2016. [Photo/VCG]
Nation has potential to keep environmental pledges by attracting more foreign investors
China will promote cross-border green bond flows and green finance investment as part of efforts to fulfill its commitment to ensure sustainable growth, a top central bank official said on Monday.
Chen Yulu, deputy governor of the People's Bank of China, said the nation will stay faithful to its green pledges through building clear roadmaps and enhancing cooperation with countries sharing similar visions as China on tackling climate change challenges.
Some efforts include launching a carbon market by the end of this year and promoting green infrastructure construction related to the Belt and Road Initiative, according to Chen.
China has demonstrated strong leadership in building and developing a green bond market as a key element of accelerating the transition to a green economy.
From 2016 to July 2017, the total issuance of green bonds in China reached 324 billion yuan ($48 billion), representing 30 percent of the total bonds issued in the global market during the same period, according to a green finance report issued on Monday by the UK-China Green Finance Taskforce.
Chinese green bonds represent 2 percent of the total issuance of bonds in the domestic market, which is substantially higher than the 0.2 percent share in the global market, the report said.
China has great potential to keep its green pledges by attracting more foreign investors, according to Ma Jun, head of the Green Finance Committee of the China Society for Finance and Banking.
Differences between China's green bond definitions and those in the international market may perplex investors, according to Ma.
Unifying the definition between different government regulators in China has been put onto China's own agenda for green development, but there is much to be done to ensure clarification across different markets, he said.
As part of the initial steps, China and the United Kingdom will establish a uniform set of standards at the regional level, building an investor alliance for the Belt and Road Initiative in order to help member organizations invest in related projects, according to Sherry Madera, special adviser for Asia at the City of London Corporation.
The alliance will issue guidelines for projects helping investors better understand and manage environmental risks.
In the meantime, domestic regulators should improve financial infrastructure through providing foreseeable policies and different tools for hedging exchange risks, according to Wang Yan, deputy general manager of Bank of China London Branch.