China sees bright future with UK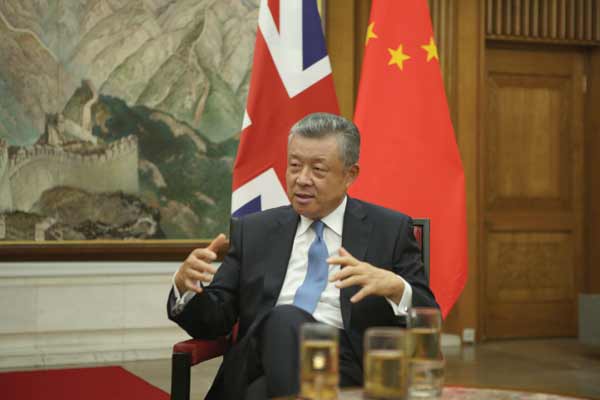 China's Ambassador to the UK Liu Xiaoming. [Photo/China Daily]
China's Ambassador to the UK Liu Xiaoming says Britain is one of the most attractive investment destinations in the world, and will remain so post-Brexit
China Daily: Recent years have seen a rapid increase of Chinese investment in the UK, which has become a major highlight of China-UK business cooperation. What is the reason behind such growth? What areas are Chinese investors focusing on?
Ambassador Liu: There is an old saying in China: "Mountains and seas cannot distance people who are of the same mind." This year marks the 45th anniversary of ambassadorial diplomatic relations between China and Britain and it is also a year for consolidating the China-UK Golden Era. Business ties between our two countries have always been a stabilizer and propeller for our bilateral relations. The rapid growth of mutual investment over the years has become a major highlight of our mutually beneficial cooperation.
For more than seven years in the UK, I have attended more opening ceremonies of Chinese businesses in Britain than any other events. Recently, I attended the groundbreaking ceremony of ABP Royal Albert Dock in London. This project, with a total investment of 1.7 billion pounds ($2.2 billion), is the first greenfield project invested by Chinese businesses and the first Chinese-invested major project in Britain with mixed financing. The Dock will be built into an urban complex of offices, homes and retail commerce. It will go on to become an important part of London's third business and financial district which will vigorously drive the development of eastern London.
This project is an epitome of Chinese investment in Britain. So far, non-financial direct investment from China has totaled at $18 billion and more than 500 Chinese companies have settled down in Britain, more than any other European country. The expansion is not only seen in the number of investment projects, but also in the width of areas, expanding from traditional sectors such as trade, finance, telecommunication to other fields including new energy, high-end manufacturing, infrastructure, R&D, etc.
I believe there are three opportunities for Chinese investors coming to Britain.
First, the "Golden Opportunity". Chinese President Xi Jinping's "Super State Visit" to the UK in 2015 heralded the building of the China-UK global comprehensive strategic partnership for the 21st century and the China-UK Golden Era. During the G20 Hangzhou Summit 2016 and the Hamburg Summit 2017, President Xi and British Prime Minister May reaffirmed in their meeting the shared commitment to jointly building the China-UK Golden Era. The frequent high-level interactions and strengthened political mutual trust create a "golden opportunity" for China's rapidly growing investment in the UK.
Second, the development opportunity. China and the UK have highly similar development strategies, which will produce inexhaustible dynamics for investment cooperation.
On one hand, China is working hard to dovetail its Belt and Road Initiative, 13th Five Year Plan and Made in China 2025 with the UK's Industrial Strategy and UK Industry 2050 and working with Britain to expand investment cooperation into infrastructure building related to new energy, high speed rail, airports, etc.
On the other hand, Britain has a series of advantages such as leading capabilities in the high-tech, finance and creative industries, an open, mature market, and a rule-based, transparent and convenient business environment. They make Britain one of the most attractive investment destinations in the world. China has sufficient capital and human resources, strong marketing capabilities and advanced high speed rail and new energy technologies. Our two countries can put our respective strengths together for common development through closer cooperation.
Third, the historic opportunity. At present, China's economy is growing steadily. China is on its way toward national renewal and moderate prosperity. This is providing lasting, strong momentum to sustain stability and boost growth in the world, Britain included.
Britain is already in negotiation with the EU on Brexit. Despite of different predictions on the prospects of the negotiation result, a stable and prosperous Britain and Europe serves the interests of all and remains a broad consensus. I think Brexit brings both challenges and opportunities but there are far more opportunities than challenges. Britain's commitment to building a truly"Global Britain", to staying open and upholding free trade also means historic opportunities for Chinese investors.