State Grid to buy remaining stake in Brazil's CPFL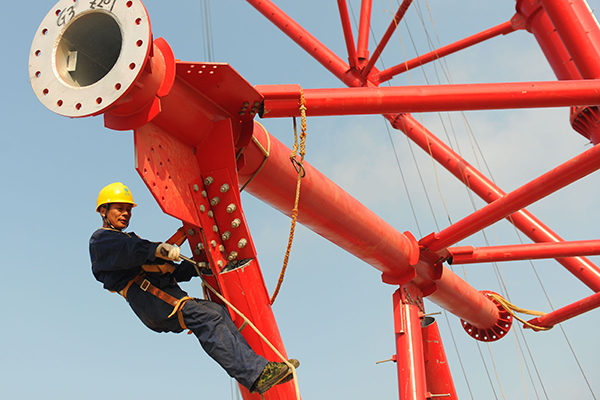 A State Grid employee works on an ultra-high-voltage transmission construction in Huainan, Anhui province. [Photo by Song Weixing / China Daily ]
State Grid Corp of China, the country's biggest utility, plans to buy the remaining shares it does not own in Brazilian power group CPFL Energia SA, Sina Finance reported.
If the deal is successful, State Grid will obtain 100 percent ownership in CPFL, the largest power distributor in Brazil, making a major stride towards its overseas layout.
In January, the Chinese company acquired a controlling 54.64 percent stake in CPFL and its subsidiary, CPFL Energias Renovaveis SA, for 17.36 billion reais ($5.68 billion).
State Grid is expanding its business globally with acquisitions across the world. Currently, it has invested in Italy, the Philippines, Brazil, Portugal and Australia.
Brazil has been the main battlefield for State Grid's "going out" plan. The company purchased 100 percent stakes in Brazil's 12 power transmission firms in December 2010 and December 2012, with a total investment of $1.68 billion.
State Grid runs nearly 7,000 kilometers of transmission line in Brazil, according to Brazil's local media. In addition, another 6,600 kilometers are under construction.
State Grid, which distributes electricity to 1.1 billion people, had a profit of 86.6 billion yuan ($13.1 billion) on revenue of 2.09 trillion yuan in 2016, according to its website.