Power giants expand grid projects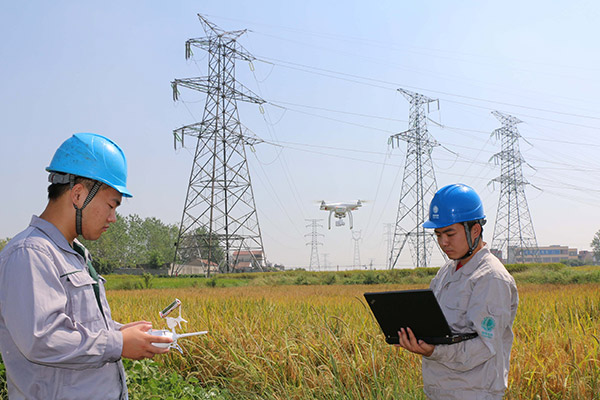 Technicians use an intelligent drone to inspect a transformer in Chuzhou, Anhui province. [Photo/China Daily]
China's power giants are carving out new business opportunities by building cross-border electricity grids through renewable energy projects.
State Grid Corporation of China, the country's largest utility company, has built 10 cross-border transmission lines, connecting China with neighboring countries such as Russia and Mongolia.
China Southern Power Grid, another State-owned utility powerhouse, has constructed 12 alternating current lines between Laos, Myanmar and Vietnam.
"So far, cross-border trade in electricity has exceeded 47.1 billion kilowatt-hours," the company said.
This is all part of a General Energy Interconnection, or GEI, plan to connect up renewable power projects across national borders.
Based in Beijing, the Global Energy Interconnection Development and Cooperation Organization has signed memorandums of cooperation with five international partners.
The non-governmental and non-profit Chinese organization aims to pursue GEI projects as part of the Belt and Road Initiative.
It agreed with outline plans with the United Nations Department of Economic and Social Affairs, the UN Economic and Social Commission for Asia and the Pacific, the League of Arab States, the African Union and the Gulf Cooperation Council Interconnection Authority.
"Among the world's most three significant networks, the integration of energy infrastructure lags far behind the information and transportation sectors," Liu Zhenya, GEIDCO chairman and former chairman of SGCC, said in an article he wrote for Bloomberg View.
The sector has also faced obstacles regarding geographical terrain and issues left over by history.
To solve these problems, GEIDCO plans to put intercontinental grids in place in each continent by 2050. Before that, it aims to set up a countrywide super-grids across the world by 2020.
With 305 members, the organization operates in 32 countries and regions across five continents.
Its long-term goal is to increase clean energy consumption to 80 percent by 2050, reduce carbon emission to 11.5 billion metric tons, and propel investment in GEI to $50 trillion worldwide.
One planned project is the China-South Asia interconnection development.
GEIDCO proposed in a white paper to construct two ultra-high-voltage, or UHV, transmission projects. These would transmit electricity generated in China and Kazakhstan to Pakistan, and ease power shortages.
Chi Yongning, chief engineer at new energy department of China Electric Power Research Institute, said safe and stable transcontinental electricity grids require abundant power.
"To ensure systematic safety, it is crucial that the power transmission is on a consistent level," Chi said.