E-vehicles to zoom on chargers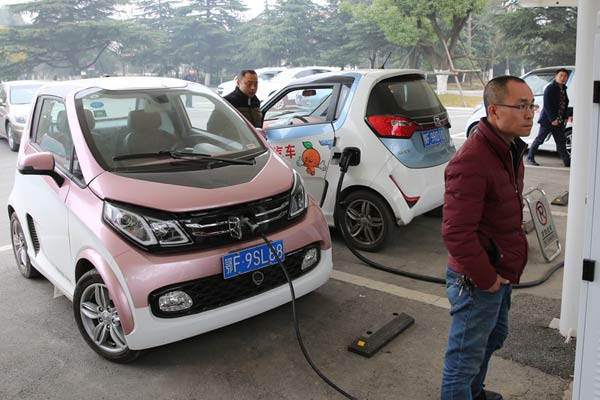 A man charges an electric car at a charging station in Xiangyang, Hubei province, Jan 4, 2017. [Photo/VCG]
A comprehensive electric vehicle powering grid will be rolled out in major Chinese cities including Beijing, Shanghai, and Shenzhen.
The country's energy planner on Thursday vowed to further expand its public fast-charge networks to enable users to power up within a close radius.
China plans to build 800,000 charging points, including 100,000 public ones, for electric vehicles this year to meet increasing demand, the National Energy Administration announced on Thursday.
A total of 100,000 public charging points were installed nationally last year, a tenfold increase on the total for 2015, bringing the total number of public charging points in China to 150,000, it said.
An analyst said China had a very strong incentive to ramp up the penetration of electric vehicles in big cities because of the widespread air pollution.
Setting up charging stations ahead of demand would greatly promote the usage of electric vehicles in China, which would in turn yield a number of benefits for the country, said Asian utilities and infrastructure analyst Joseph Jacobelli at Bloomberg Intelligence.
Drivers were reluctant to use electric vehicles unless they had access to several reliable charging facilities, he said.
Jacobelli said roadside pollution was a key source of emissions in China and the plan for more EV charging stations would not only reduce emissions and reduce oil consumption, but also boost grid management.
Electric power companies in China have also been asked to beef up EV charging stations nationwide, according to the National Development and Reform Commission.
State Grid Corp of China, the nation's electric power giant, said recently it planned to build 10,000 charging stations and 120,000 charging units by 2020 to further expand public fast-charge networks for electric vehicles in major Chinese cities, including Beijing, Shanghai and Hangzhou.
The company said it plans to build 29,000 charging stations this year alone, up from 22,000 in 2016. It aims to expand its fast-charge networks to 47,000 by 2020.