Regulators plan crackdown on insurance rule breakers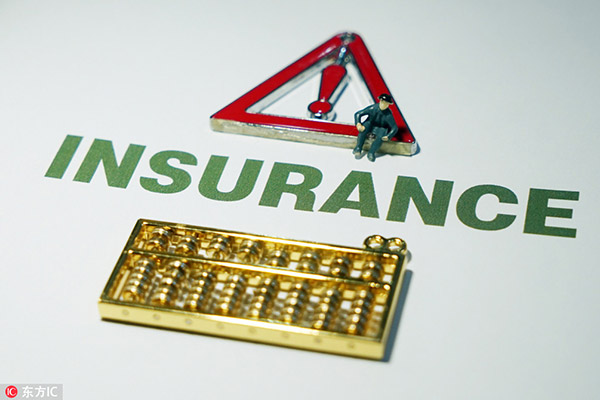 Chinese insurers with rule-breaking and dishonorable records will face stricter market access as the country's top insurance regulator intensified crackdown in cooperation with other government agencies on Wednesday.
The China Insurance Regulatory Commission signed a memorandum of understanding with 30 ministries and regulators including the People's Bank of China, and the National Development and Reform Commission, to jointly crack down on illegal activities in the insurance sector, and they vowed to hold wrongdoers accountable.
Insurers will face restrictions in establishing banking, securities and insurance subsidiaries or branches for their wrongdoings and will be restrained from participating in government procurement and getting government subsidies, according to the MoU.
Rule-violating records will also affect insurers' future fundraising as the regulators will take the records as key reference when approving their share sales and access to bank loans and foreign exchange.
Individuals with dishonorable records will also face disqualification for senior executive positions at financial institutions and State-owned enterprises.
The MoU, which specified 28 measures to punish wrongdoing in the insurance sector, came as Chinese regulators have stepped up their efforts to contain financial risks.
While China's insurance industry is growing rapidly, with total assets exceeding 15 trillion yuan ($2.3 trillion) last year, the regulators are becoming increasingly wary about risky and aggressive domestic and overseas investment by some insurers that runs the risk of mismatching their assets with liabilities.
Liang Tao, vice-chairman of the CIRC, said that the MoU will increase the regulatory deterrence and effectiveness and it was a milestone in the development of a credit system for the insurance industry.
"It will help improve the industry's ability to prevent and resolve financial risks," Liang said at a news conference in Beijing. "The cooperation of various government agencies will help ensure the penalties are effective and the wrongdoers are held accountable."
"A good credit record is the lifeline of the insurance industry and the core competitiveness of insurance companies," he added.
Xu Xiaobo, an official with the NDRC, the country's top economic regulator, said that greater information sharing among various government agencies is crucial to improve the regulation of the insurance industry.
China is building a unified credit information platform to pool the information from different government agencies and local authorities and to establish a complete credit record of companies, according to Xu.