Approval of Unicom share sale touches rule revision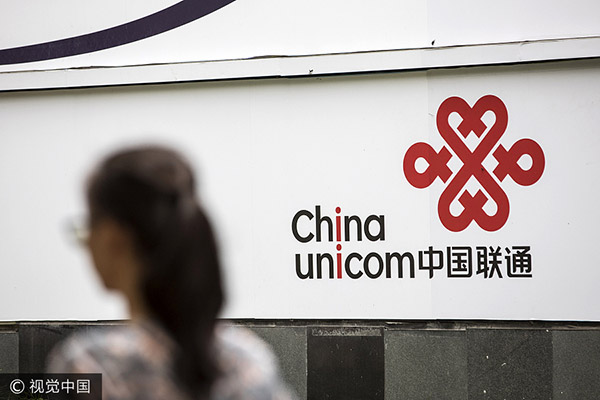 Signage for China Unicom Ltd is displayed outside a store in Shanghai, Aug 21, 2017. [Photo/VCG]
CSRC said it will treat telecom giant's reform plan as an 'exceptional case'
China's top securities regulator should review and reassess the current rules on private share sales by listed companies to ensure market fair play, analysts said on Wednesday after a high-profile share sale plan by a State-owned telecom giant was seen to have violated securities rules.
The long-awaited ownership reform plan of China United Network Communications Group Co Ltd, the country's second-largest mobile carrier, was approved by the securities regulator on Sunday, giving a green light to the company's plan to sell a 35.2 percent stake to 14 companies, thereby raising 78 billion yuan ($11.6 billion).
The share sales plan was thought to have violated the recently changed rules issued by the China Securities Regulatory Commission, which required a cap of 20 percent of existing shares on private placement.
China Unicom temporarily withdrew its filings with the Shanghai Stock Exchange, citing "technical reasons" after revealing the share sale plan.
The CSRC later said in statement that it will treat China Unicom's reform plan as an exceptional case that is not bounded by the current rules.
The move has prompted market questions on whether future deals by SOEs will continue to follow the existing rules or will be exempted from the current regulation.
Liu Junhai, a business law professor at Renmin University of China, said the securities regulator should initiate the process of reviewing and reassessing the current rules as soon as possible to avoid potential legal risks and to ensure market fairness.
"The regulator should hold public hearings and elicit opinions from companies, investors and investment banks to decide whether to modify the existing rules if (they) fail to fit the market condition," Liu said.
"The case of China Unicom is a milestone of the SOEs' reform. The government should ensure that future practices are in line with the spirit of rule of law and companies are treated on equal basis," Liu added.
Some Chinese media commentators said the confusion over China Unicom's share sale plan reflected the complexity of the ownership reform of the country's SOEs and added that there is a need for better coordination among various government agencies.
Nonetheless, analysts expected that China will accelerate the reform of the SOEs in the coming months and more restructuring deals can be expected.
Chen Jiahe, chief strategist at Cinda Securities Co Ltd, said the surge of stock price of China Unicom by more than 20 percent after it resumed trading reflected investors' confidence about the reform.