Excavator sales set to jump in 2017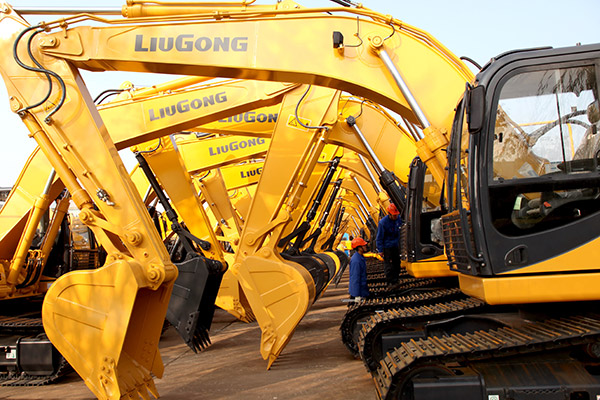 Excavators made by LiuGong Machinery Co Ltd in Liuzhou, the Guangxi Zhuang autonomous region. [Photo/China Daily by Huo Yan]
Chinese excavator manufacturers are expected to see a 50 percent year-on-year jump in sales to 120,000 units by 2017, despite the low stocks available due to the quiet market in the past five years, officials said on Wednesday.
The excavator branch of the China Construction Machinery Association reported that the country's major construction machinery makers sold 82,725 units to both domestic and overseas markets between January and July, up 101.3 percent year-on-year. The figure for the first seven months of this year outperformed the total annual sales of 70,320 units last year.
Both domestic and overseas markets have shown growing demand for excavators, with 77,814 units sold at home, up 111.7 percent year-on-year and 4,884 units sold abroad, up 14 percent.
Yin Xiaoli, deputy secretary-general of the CCMA, said the excavator segment will continue to grow robustly in the second half of this year, thanks to China's ongoing railroad, highway and airport projects in lower-tier cities, as well as urbanization.
Excavators are not just used for basic construction. They can also be used in advanced projects such as wind power farms, industrial housing, smart city developments and medical equipment factories.
"Growth opportunities will also come from the increasing demand for excavators, bulldozers, pipe-layers, road rollers and wheel loaders in markets related to the Belt and Road Initiative," said Yin.
Excavator sales have surged since the second half of 2016. The monthly growth rate topped 70 percent year-on-year from September to November 2016.
Most companies in the sector have seen a robust rise, especially large ones such as Sany Heavy Industry Co and Xugong Group Construction Machinery Inc. Seven of them have achieved double sales performance.
According to the research by Pacific Securities, sales in August are expected to double from the same period a year earlier, while the growth rate may fall back to 80 percent year-on-year in the following month, considering the existing large number of excavators already in use.