Dalian lines up with other cities to boost evolving cruise ship sector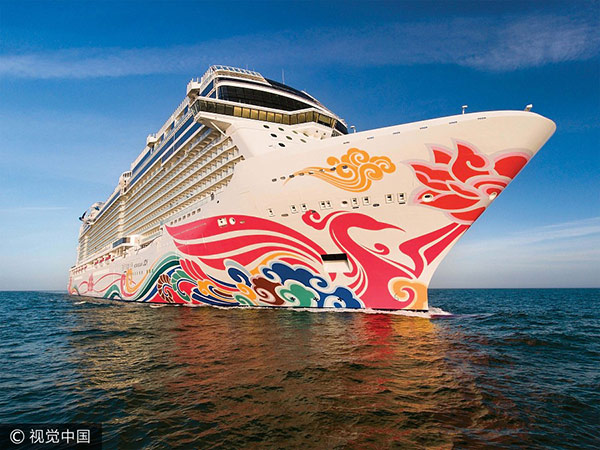 This undated photo shows the Norwegian Joy, the largest cruise ship in the Asia-Pacific region was built in Germany. The 'Breakaway Plus' class cruise ship was designed specifically for the Chinese market.[Photo/VCG]
Officials from Dalian, in northeastern Liaoning province, said their city has been tapped as one of six key cities chosen to participate in a special zone-called the Cruise Tourism Development Pilot Area-that aims to boost China's rapidly-evolving cruise liner industry.
The first cruise zone, to boost the cruise tourism industry, was approved to be set up in Shanghai by the China National Tourism Administration in September 2012. Shanghai tourist authorities approved tax refunds for overseas tourists on purchases in designated shops, and opened duty-free shops at the arrival areas of the city's cruise terminals.
Liu Wei, general manager of the Dalian Port International Cruise Liner Center, said development of infrastructure in the city had progressed well since the Dalian Port Group began construction of a cruise liner center in 2015.
"Currently two 150,000-metricton berths are under construction and these are expected to be completed in 2019," she said.
During a recent tourism industry conference in Xi'an, capital of Shaanxi province, the China National Tourism Administration issued membership plaques for the cruise pilot area to the cities of Shanghai, Tianjin, Shenzhen, Qingdao, Fuzhou and Dalian.
China's cruise ship sector has been developing rapidly in the past decade and in 2015 it became the world's fourth biggest cruise market. Analysts say international cruise ship giants are working hard to enter the Chinese market.
Statistics from the World Tourism Cities Federation show that Chinese ports accepted 955 visiting cruise ships in 2016, carrying more than 4.39 million passengers.
"This year, Dalian is expected to accept 33 cruise ships and more than 60,000 passengers," said Li Jingping, head of the Dalian Tourism Development Committee.
According to Li, Dalian was China's first port to accept cruise ships. In 1976, a luxury liner from Japan visited. Since then the port has accepted hundreds of cruise ships.
With its beautiful natural scenery featuring mountains and sea, Dalian is a well-known tourism city in China.
In 2016, the city accommodated more than 1 million international tourists and over 76 million domestic tourists.
Li said that with northeastern China as the hinterland, the city provided a convenient location to reach Japan, South Korea, and Russia. He said Dalian's cruise sector was expected to expand in the coming five years.
Zhang Tie, general manager of Dalian Port Group's passenger transport company, said the port had a suitable terminal to handle large-sized international cruise liners, with good water quality and complete facilities.
The port has established trade relationships with more than 300 ports in over 160 countries and regions around the world.
In July last year, Royal Caribbean International's Legend of the Seas cruise liner, carrying about 2,000 tourists, left Dalian for Sasebo and Kagoshima in Japan. It underscored that Dalian has become a port of departure for international cruise liners.
"The city's cruise sector has great potential and is enjoying rapid development. This year, some 50 cruise liners are expected to depart from Dalian," Zhang added.