iOS App Store guidelines apply equally to everyone: Apple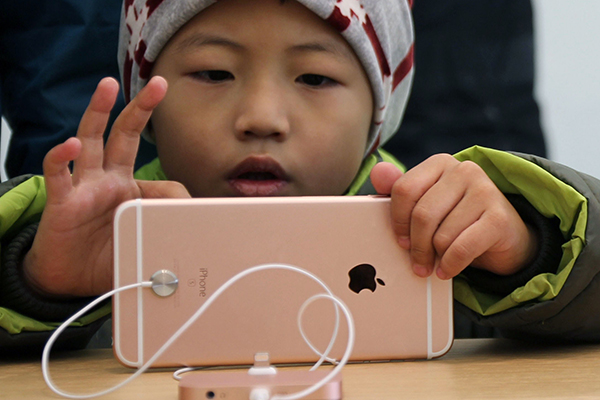 A boy plays with a smartphone in an outlet of Apple Inc in Qingdao, Shandong province. [Photo/China Daily]
Apple Inc, an American multinational technology company headquartered in Cupertino, has denied accusations of treating Chinese developers unfairly and stated iOS App Store guidelines apply equally to all developers across the globe.
Apple said, in a reply to China Daily, more than 1.8 million people work on its App Store ecosystem in China, and the company invests a tremendous amount of resources providing advice and training for entrepreneurial developers.
"The App Store team works to review more than 100,000 apps every week from around the world, and are proud that most submissions in China are reviewed and approved to be on the store within 48 hours or less," Apple stated, adding the company complied with local laws and regulations.
The response came after a Chinese law firm filed a complaint with regulators alleging Apple treated Chinese app developers unfairly by removing their apps from the company's iOS App Store without a good reason.
In a response, Apple said if an app is rejected or removed for violating App Store guidelines there is an escalation process for all developers to ask for another review of their situation and assistance getting their app quickly back on the store.
"We continue to expand our local developer relations team in China and are working hard to help developers be successful on the App Store," the company stated.