Wanda Hotel shares suspended as overhaul expanded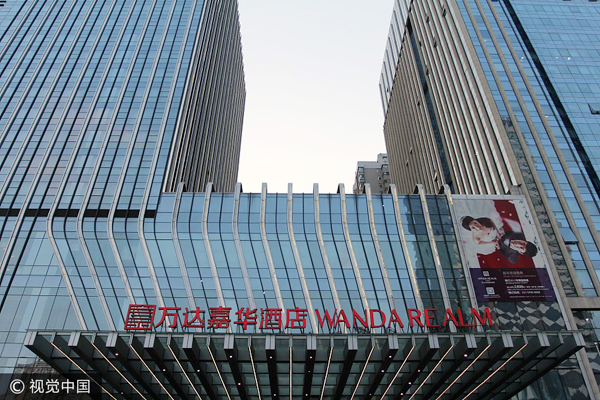 A Wanda hotel in Wuhan, Hubei province, July 25, 2017. [Photo/VCG]
BEIJING - Billionaire Wang Jianlin is planning a reorganization of Wanda Hotel Development Co, expanding an overhaul of the Chinese tycoon's property-to-entertainment empire.
Shares of Wanda Hotel were suspended from trading on Wednesday, pending the release of information involving a letter of intent that was signed on a "possible asset restructuring" with a person connected to the company, according to a Hong Kong stock exchange filing.
A representative of Wanda Hotel, which consists mostly of overseas property projects under construction, declined to comment beyond the statement.
The move is the latest in a broader reorganization of Wang's Dalian Wanda Group Co, one of China's once-acquisitive firms now under scrutiny by Chinese authorities.
The conglomerate last month agreed to sell most of its domestic theme park and hotel assets for $9.4 billion, while shares of the group's Wanda Film Holding Co unit have been suspended from trading since early July, pending a restructuring of the company.
Wanda Hotel, whose assets include projects in Australia, surged 16 percent to HK$1.16 (15 cents) on Tuesday after the Australian Financial Review reported the group was considering selling two projects in Australia valued at about A$2 billion ($1.57 billion).
Wanda Hotel and its parent denied the report.
Bloomberg