Apple eyes big bite of mobile payments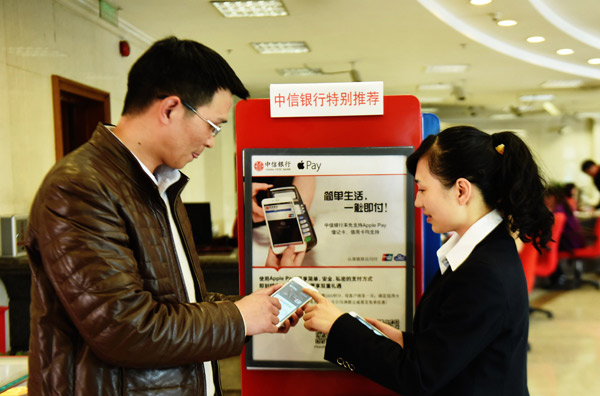 A man learns how to use Apple Pay at a bank in Hangzhou, capital of Zhejiang province. [Photo by Long Wei/For China Daily]
Apple Inc is launching a large promotion campaign in China to promote Apple Pay, in a move to expand its presence in the local mobile payment market dominated by Alibaba Group Holding Ltd and Tencent Holdings Ltd.
From July 18 to 24, Chinese consumers who use Apple Pay to buy items in certain retailers and supermarkets can benefit from a range of offers of up to 50 percent off. They can also enjoy as much as 50 times the usual amounts of reward points for credit cards, Apple said on its official Chinese website.
Partners for the promotion campaign include a total of 28 offline retail stores, supermarkets and restaurants, such as Starbucks and Costa Coffee, as well as 16 internet merchants including bike-sharing app Mobike, online travel app Ctrip and e-commerce site JD.
The event, one of the largest of its kind since Apple Pay was launched in China in February 2016, came as the US tech giant ramps up its resources to appeal to local consumers amid mounting competitions from Alibaba's Alipay and Tencent's WeChat Pay services.
Jennifer Bailey, vice-president of Apple Pay, told financial media outlet Caixin that the company aims to encourage every one of its iPhone users to opt for Apple Pay.
According to Bailey, 97 percent of Apple Pay users are very satisfied with the service and the promotion is designed to attract more first-time users.
In the first quarter of 2017, Alipay and WeChat Pay, respectively, accounted for 53.7 percent and 39.5 percent of China's third-party mobile payment market, data from the Beijing-based research agency Analysys show.
Li Chao, an analyst at iResearch Consulting Group, said Chinese consumers have been accustomed to using Alipay and WeChat Pay, whose services can be installed in all kinds of mobile devices and be initiated by scanning quick responsive codes.
"Apple Pay, however, is only available on iPhones. It takes huge resources to change consumers' established habits. The promotion campaign may be effective in short term. But in the long term, Apple need to come up with more services to differentiate itself from its rivals" Li said.
Liu Chang, a software engineer in Shenzhen, said: "The 50 percent discount offering is attractive, but since WeChat Pay and Alipay are already very convenient, why should I bother to use Apple Pay."