China's home prices continue to stabilize on tough curbs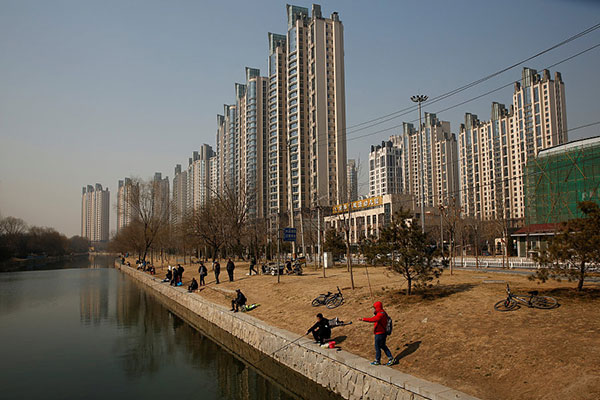 People fish on the bank of a canal in front of apartment blocks in Beijing, Feb 27, 2017.[Photo/VCG]
BEIJING — China's once red-hot property market continued to show signs of cooling as prices faltered or posted slower growth in major cities amid the government's tough purchase curbs, data showed Tuesday.
On a yearly basis, new home prices continued to climb in the 70 cities surveyed in June, but the pace of growth slowed in 15 major cities compared with the previous month, the National Bureau of Statistics (NBS) said.
Average price increases for new homes have decelerated for nine consecutive months in Beijing, Shanghai, Guangzhou and Shenzhen, while in second-tier cities prices have been easing for seven straight months.
Prices for existing homes also posted slower annual growth in June compared with the previous month.
On a month-on-month basis, new home prices fell or remained flat in nine cities, according to the NBS data.
This came after the NBS data showed Monday that growth in property development investment further decelerated in the first half of the year.
NBS spokesperson Xing Zhihong said current property market regulation focused on easing home price surges in large cities while destocking supply glut in smaller cities.
Xing expected property-development investment growth to decelerate over the remainder of the year.
The data adds to evidence that China's property market boom is running out of steam as the government continues cooling measures to quash potential asset bubbles.
Rocketing housing prices, especially in major cities, had fueled concerns about asset bubbles. Since the end of 2016, dozens of local governments have passed or expanded their restrictions on house purchases and increased the minimum down payment required for a mortgage.
The market was also cooled by relatively tightened liquidity conditions in China as the government moved to contain leverage and risk in the financial system.
Liquidity pressure and intensified financial supervision forced financial institutions to tighten loan application reviews, rein in mortgage loans and lift mortgage interest rates.