China's property market boom runs out of steam?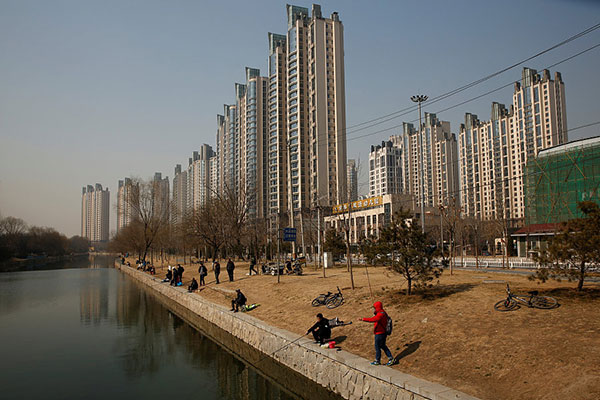 People fish on the bank of a canal in front of apartment blocks in Beijing, February 27, 2017.[Photo/VCG]
BEIJING - As the central government continues its tightening measures, a stand-off between home buyers and sellers seems to be cooling the property market and stressing property developers.
Official data for housing sales in May will be released next week. Until then, data from property developers offers a glimpse of the cooling market.
Sales of China Vanke, the country's largest residential developer, declined 16.5 percent from April to 2.42 million square meters in May, with the value down 14.3 percent month-on-month to 35.89 billion yuan ($5.28 billion), the company said in a statement to the Shenzhen Stock Exchange.
China Vanke was not the only property developer feeling the pinch. Some 70 percent of 40 property developers monitored by property research center CRIC saw sales value decreases from April. Combined sales value of the 40 companies fell 10 percent month-on-month in May.
Zhu Xu, secretary of China Vanke board, said the company expected the situation to be more severe in the second half this year.
Nationally, property sales measured by floor areas grew 15.7 percent year on year during the January-April period, a rapid growth but down from the 19.5-percent increase in the first three months, according to the National Bureau of Statistics.
Signs of the housing market cooling down came after the government's increasingly stringent cooling measures to quash potential asset bubbles.
Rocketing housing prices, especially in major cities, had fueled concerns about asset bubbles. China's policymakers announced in December that "houses are for living in, not for speculation."
Since the end of 2016, dozens of local governments have passed or expanded their restrictions on house purchases and increased the minimum down payment required for a mortgage.
The market boom was also cooled by relatively tightening liquidity conditions as China moved to contain leverage.
As China has shifted away from its relatively loose monetary stance, the central bank has left benchmark interest rates on hold, but used diversified monetary tools to ensure liquidity and guide the interbank market rates higher.
Liquidity pressure and intensified financial supervision forced financial institutions to tighten loan application reviews, rein in mortgage loans and lift mortgage interest rates.
The ratio of mortgage loans in China's new yuan-denominated loans fell to 40 percent in April.
Zeng Gang, an economist with the Chinese Academy of Social Sciences, expected the Chinese banks to make fewer mortgage loans with higher rates this year as they will favor short-term loans or loans to enterprises under tight liquidity conditions.
The increasingly tightening credit policy will further squeeze the sales of China Vanke, Zhu Xu said.
Zhang Dawei, an analyst with Centaline Property, said the stand-off between buyers and sellers will continue. Zhang expects it to take more than six months for the restrictive policies to lead to evident price declines.
Analysts said the restrictive policies could weigh on property development investment, dampen construction activity, and add pressure on the economy.
Zhao Qingming, chief economist at China Financial Futures Exchange, expected the annual growth of property development investment, which reached 9.3 percent for January-April, to slow in the second half of the year, but the deceleration will be mild.
China's GDP expanded 6.9 percent in the first quarter of the year, up from the 6.8-percent growth in the previous quarter and 6.7 percent for 2016. The government has targeted annual growth of around 6.5 percent for 2017.