China's May CPI up 1.5%, PPI up 5.5%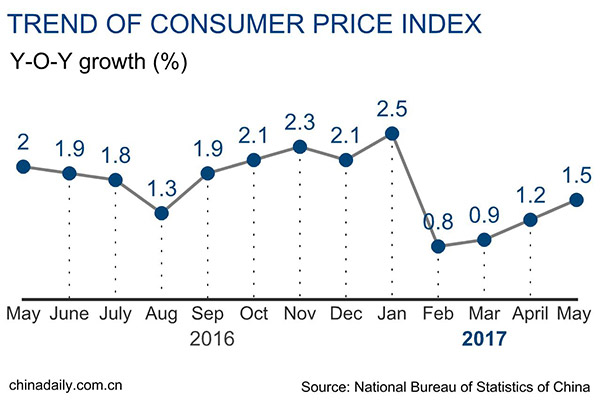 BEIJING - China's consumer price index (CPI), a main gauge of inflation, rose 1.5 percent year on year in May, the National Bureau of Statistics (NBS) said Friday.
The CPI expansion in May is in line with estimates. It quickened from April's 1.2 percent, March's 0.9 percent and February's 0.8 percent.
On a monthly basis, however, the CPI declined 0.1 percent, according to the NBS.
Of the 1.5-percent CPI growth in May, 1 percentage point was contributed by the carryover effect of price increases last year, NBS senior statistician Sheng Guoqing said.
The NBS attributed the pick-up in CPI partly to higher non-food prices, which grew 2.3 percent year on year in May.
However, food prices dropped 1.6 percent. Meat and vegetable prices fell 7.8 percent and 6.3 percent year on year respectively.
Excluding volatile food and energy prices, the core CPI increased 2.1 percent year on year in May, which is the same as the previous month.
CPI increased 1.4 percent on average in the first five months of the year.
The figure is well below the official annual inflation control target of around 3 percent.
Lian Ping, chief economist at the Bank of Communications, said the CPI may continue to increase next month, as the carryover effect will reach the highest point in June.
In the second half of 2017, the CPI may go down, according to Lian, forecasting that there will not be obvious inflation pressure throughout the year.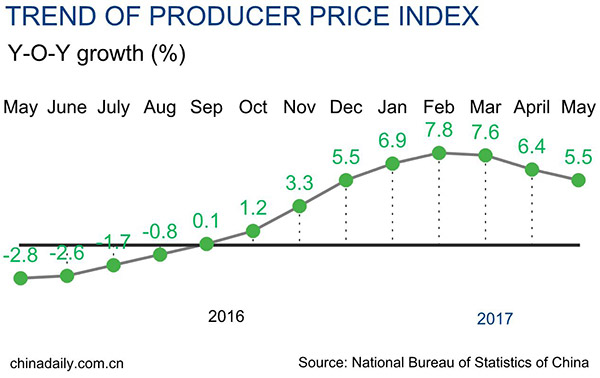 China's producer price inflation continued to ease in May as commodity price declines dragged down factory-gate costs, official data showed Friday.
The producer price index (PPI), which measures costs of goods at the factory gate, rose 5.5 percent year on year last month, according to the National Bureau of Statistics (NBS).
The pace retreated from the 6.4 percent growth registered in April and 7.6 percent in March. The index increased 7.8 percent from a year ago in February, the fastest since 2008.
Month on month, the PPI edged down 0.3 percent, narrowing from the 0.4 percent decline in April.
Factory-gate price declines in the ferrous metal mining and non-ferrous metal smelting industries widened to 4.1 percent and 0.9 percent from a month earlier, respectively, noted NBS senior statistician Sheng Guoqing. Meanwhile, price drops in the oil and gas extraction industry moderated and price gains in the coal mining ended.
China's PPI has stayed in positive territory since September, when it ended a four-year streak of declines, partly due to the government's successful campaign to cut industrial overcapacity, which benefited the wider economy.
The PPI figures came alongside the release of the consumer price index, which rose 1.5 percent year on year in May.